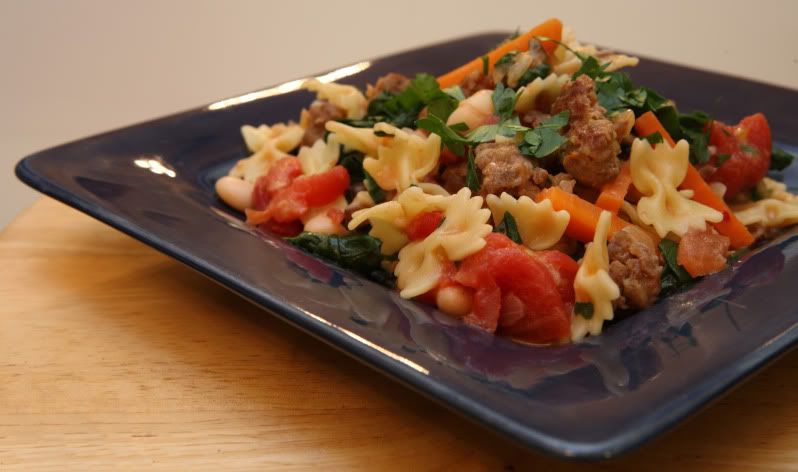 Do you pack a lunch to take to work or school each day? I go through stages: for awhile I'll be really good about packing my PB&J and applesauce, but after awhile I get kind of tired of the same old same old and end up eating takeout. I do better when I have leftovers packed up from the previous night's dinner.
So, when I plan what I'm going to eat for dinner, I try to choose something that I know will leave enough leftovers for me to take to lunch the next day (or two).
For my family of three, this recipe fits the bill.
This meal serves about six people, depending on how big your servings are. That's way more than what I need to feed the three mouths I currently have in my house, but that just means I have plenty of leftovers to eat throughout the rest of the week. We just packaged up leftovers from tonight's dinner and have enough for at least four lunches! It reheats pretty well in the microwave or on the stovetop, and I can't wait for lunch tomorrow!
And if you don't need quite that much food all at once, the recipe can easily be halved, or simply reduced slightly.
I like this meal because it's easy enough to make on a weeknight and it tastes great due to the spicy Italian sausage - buy a type that is labeled "hot" for the best flavor!
You'll need a large, deep skillet to make this dish.
Pasta with Sausage, Spinach, and White Beans
Serves about 6
3 links
hot
Italian sausage, casing removed
8 ounces bow-tie pasta (the pictures show mini farfalle)
5 tomatoes (you could substitute one 14.5-ounce can of diced tomatoes if your fresh tomato availability is nil)
1 medium onion, chopped (I give it a whir in the mini food processor)
2 carrots, peeled and chopped (I make little carrot sticks about the length of the pasta - you could use an equal amount of baby carrots sliced into sticks)
4 ounces portabella mushrooms, chopped
1/2 cup chicken stock
2 Tbsp heavy cream (approximately...I just eyeball it)
6 ounces fresh baby spinach, roughly chopped if the pieces are particularly large
1/4 cup chopped fresh parsley
One 14.5-ounce can Great Northern white beans, rinsed and drained
In a deep, large skillet, over medium heat, fry sausage, stirring and breaking it up as it cooks. When the sausage is mostly-cooked, but is still slightly pink on the inside, remove it from the pan to a plate lined with a paper towel, leaving the fat in the pan - set the pan aside. This picture shows the sausage at the proper level of doneness: mostly browned on the outside but still pink on the interior. (No worries, we'll finish cooking the sausage later.)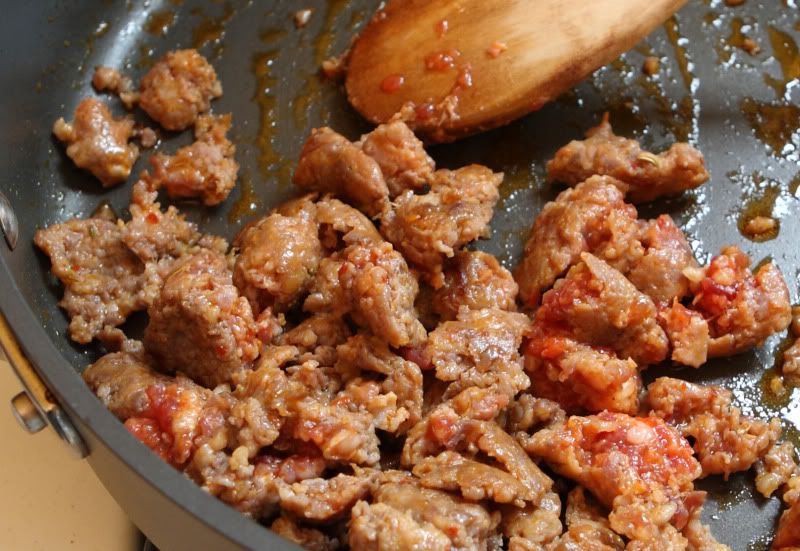 Bring a separate large pot of water to a boil. Add the pasta and cook according to the package directions. Drain and set aside.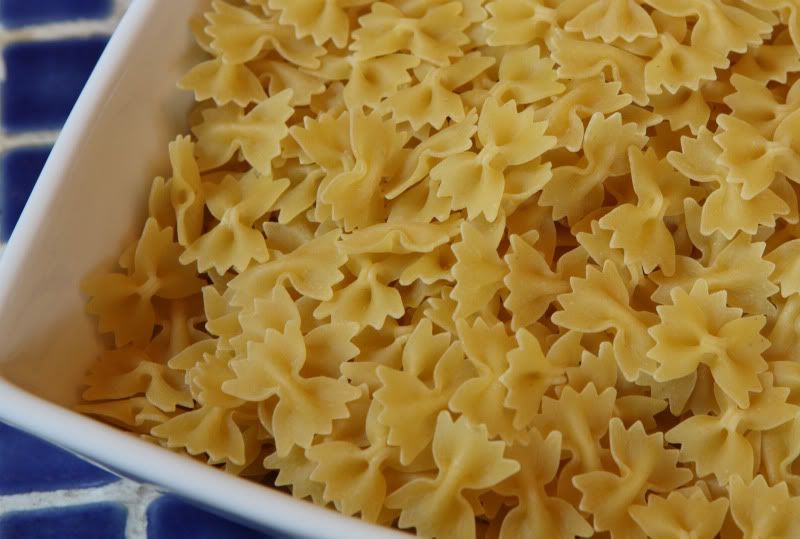 Meanwhile, if you like (and I highly recommend it), peel the tomatoes. If you don't have one yet, I suggest you invest in one of these
gadgets
: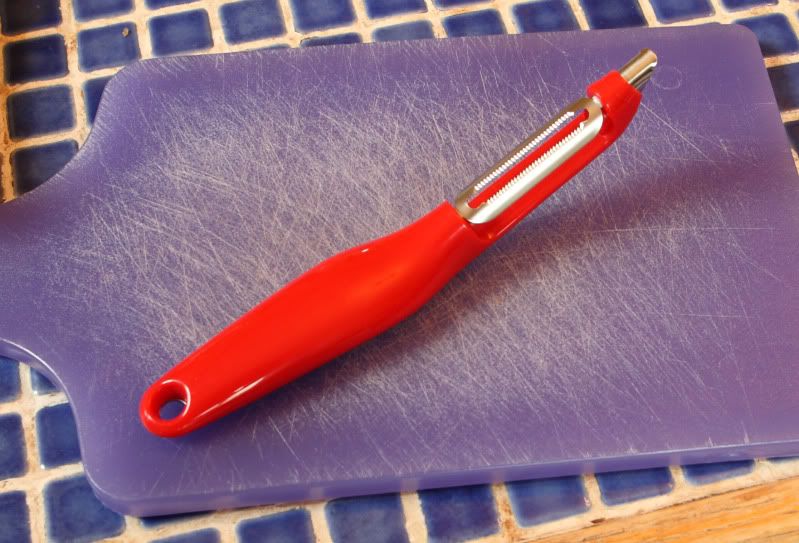 …a soft-skin serrated peeler! Besides being good at peeling tomatoes, they do an excellent job of peeling kiwis, peaches, and the skin off your fingers (so be careful!). They're dishwasher safe, and happen to be ergonomic: they are pretty comfortable to use if you have a big peeling task ahead of you. Buy one, and while you're at it, buy one of their
standard peelers
too. Your hands will thank you next time you peel a potato.
If you don't have a nifty soft-skin peeler, you'll need to peel the tomatoes using the boiling water method: Cut a shallow X into the bottom of each tomato. Plunge them first in boiling water for about ten or fifteen seconds, then rinse them under cold water to stop any cooking. The skins should come off more easily than they would otherwise (start peeling from the X). (A soft-skin peeler is much easier – no boiling water to deal with and one less pot to wash!)
(If its wintertime and your supermarket has terrible tomatoes, go ahead and use canned diced tomatoes. No peeling or chopping necessary...)
Once you've peeled the tomatoes, roughly chop them and divide them into two approximately equal portions. Set both portions aside.
Add the onions to the leftover fat in the large skillet you used for the sausage. Cook on medium-high heat until onions just begin to soften. Stir in the carrots, mushrooms, and half of the chopped tomatoes and cook a few minutes longer until carrots are crisp-tender.
Stir in the chicken stock, reserved sausage, and the spinach, and allow the mixture to simmer for a few minutes to reduce the liquid slightly. If you have a lid for your skillet, cover it for a minute to help cook the spinach more evenly. No lid? Don't worry, just stir it frequently until the spinach is all evenly wilted.
Add the cream, chopped parsley, and reserved cooked pasta. Stir to incorporate the ingredients. Once the sausage has cooked through, gently fold in the beans and the remaining tomatoes. Heat through, then serve immediately.