Have you ever had brown butter pasta sauce? It's less common, at least, around here (I can't recall seeing it in a restaurant recently). I do love it, partially because it's delicious, partially because it's a nice change of pace from marinara or alfredo sauce, and partially because it's one of the easiest pasta sauces to make.
That said, to be successful with the finished product, have all of your ingredients ready to go by the time the pasta is done cooking. You'll need to be able to dump it all into the pot at the appropriate time and if you take too long, your pasta will cool off too much. But that's the most difficult thing about it. (To alleviate that problem, you could make the sauce in a different pan as the pasta is cooking...but that means you'll have more clean-up...I'm lazy...)
Another thing – yeah, this isn't exactly health food... It is called Brown BUTTER Sauce for a reason!
We like the Rising Moon brand of ravioli – they have a wide variety of flavors to try. My favorite is the Butternut Squash kind, especially when served with this sauce. Most of the flavors I've tried are pretty good, though.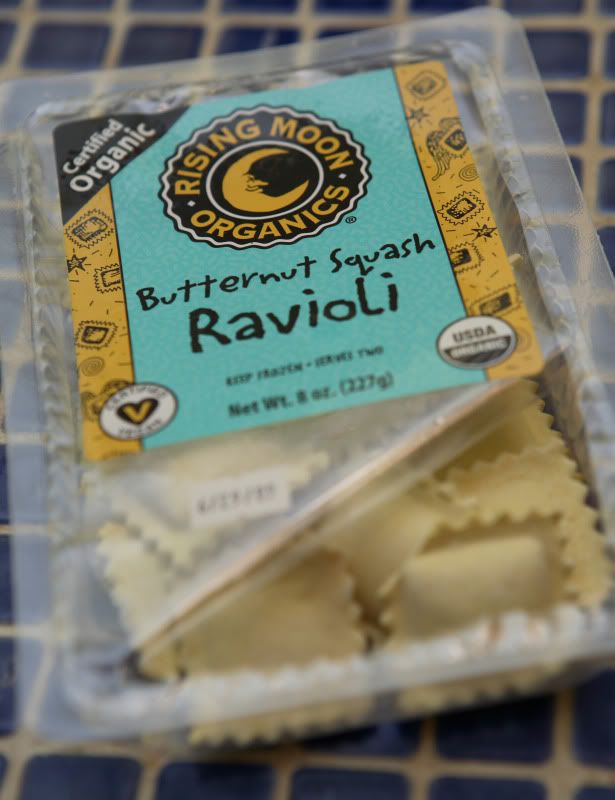 This is easy to make vegetarian – just omit the prosciutto. Add a pinch of coarse salt if you do that, though, because prosciutto's very salty!
Brown Butter Pasta Sauce on Butternut Squash Ravioli
Serves 4
2 8-ounce packages butternut squash-filled ravioli (16 ounces total)
1/2 cup walnuts, roughly chopped
About 3 ounces thinly sliced prosciutto, finely diced
1 Tbsp fresh sage, finely chopped
1/4 cup freshly grated Parmesan cheese, plus more for garnish
1/4 tsp freshly grated nutmeg
4 Tbsp butter
1/4 cup finely diced portabella mushroom
Freshly ground black pepper
Cook the pasta according to package directions.
Meanwhile, prepare the sauce ingredients:
Roughly chop the walnuts. Toast them in a skillet over medium heat, stirring often, until aromatic and lightly browned. Remove the nuts from the heat and set them aside.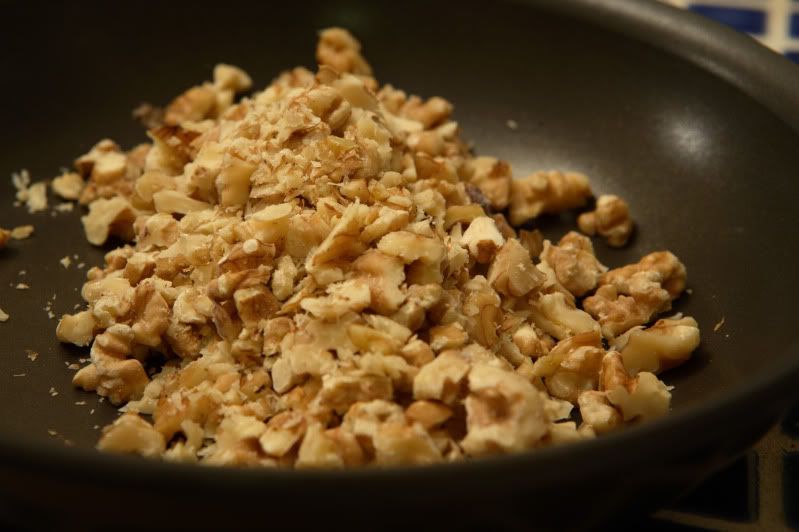 Finely dice the prosciutto; set it aside. Finely chop the sage; set it aside. Grate the cheese. Keep your nutmeg and it's grater close at hand, so it's ready to go too.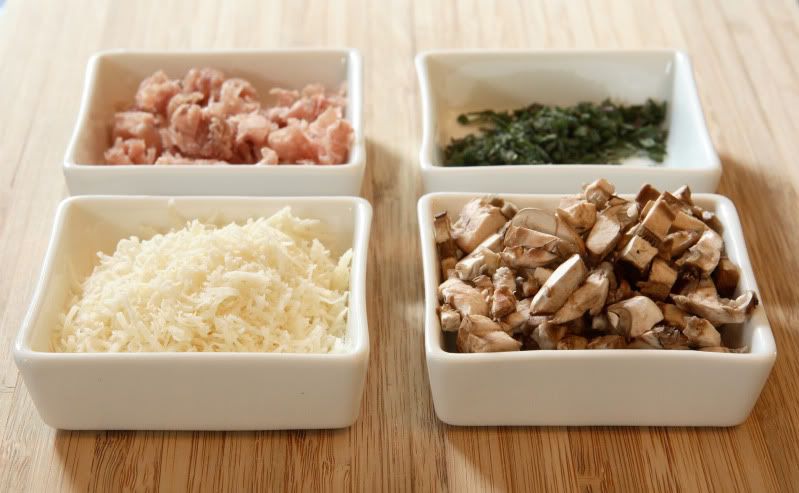 Once the pasta has cooked, drain it well and set it aside. Add the butter to the empty pasta pot. Stir it over medium heat until it has melted. Continue to cook the butter, stirring frequently, until it begins to turn golden brown – this will take just a few minutes. As soon as it begins to become golden brown, add the mushrooms, grated nutmeg, black pepper, diced prosciutto, and chopped sage. Over low heat, stir to heat through; the mushrooms will cook very rapidly in the hot butter.
Return the pasta to the pot. Sprinkle the parmesan over the pasta and gently stir to distribute the cheese evenly and coat the pasta with the sauce. Garnish with additional grated parmesan cheese and the toasted nuts.