These are my go-to brownies for when I have company over to visit. They are not too fudgy, not too cakey, and shouldn't turn out dry, as long as you don't over bake them (that's entirely up to you!). The brownies still pack a chocolaty punch, and shouldn't disappoint chocolate lovers.
The recipe was originally a back-of-the-flour-bag KA recipe (their all-purpose flour bag, if you've got one around), but you can also find a very similar version of the recipe
online
. I can't leave well enough alone, so I usually make it as I've written it below.
This recipe calls for a full two cups of chocolate chips. The cheapest way to accomplish this is to buy your chocolate chips in a giant 72-ounce bag: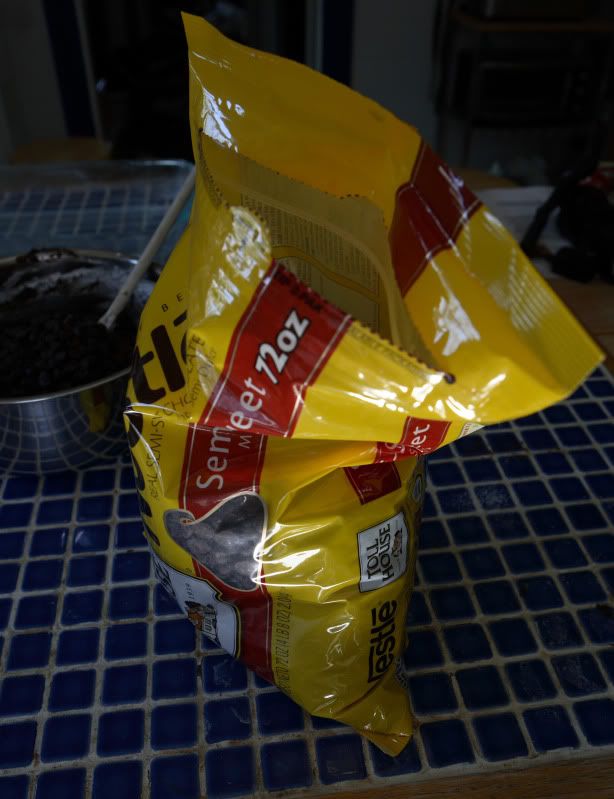 For the ultimate in brownie decadence, make them into
brownie sundaes
with some ice cream and homemade caramel sauce!
If you like nuts, add a handful of walnuts – toasted! – at the same time the chocolate chips are stirred in. Or, I've substituted butterscotch chips for the chocolate chips with great results.
Chocolate Chip Brownies
Makes one 9x13 pan
1 cup (2 sticks) unsalted butter
2 1/4 cups sugar
4 large eggs
1 1/4 cups cocoa
1 teaspoon salt
1 teaspoon baking powder
1 tablespoon vanilla extract
1 1/2 cups all-purpose Flour
2 cups chocolate chips
Preheat oven to 350 degrees F. Grease a 9x13 pan.
In a medium saucepan, melt the butter and sugar, stirring to combine. The mixture will become shiny-looking.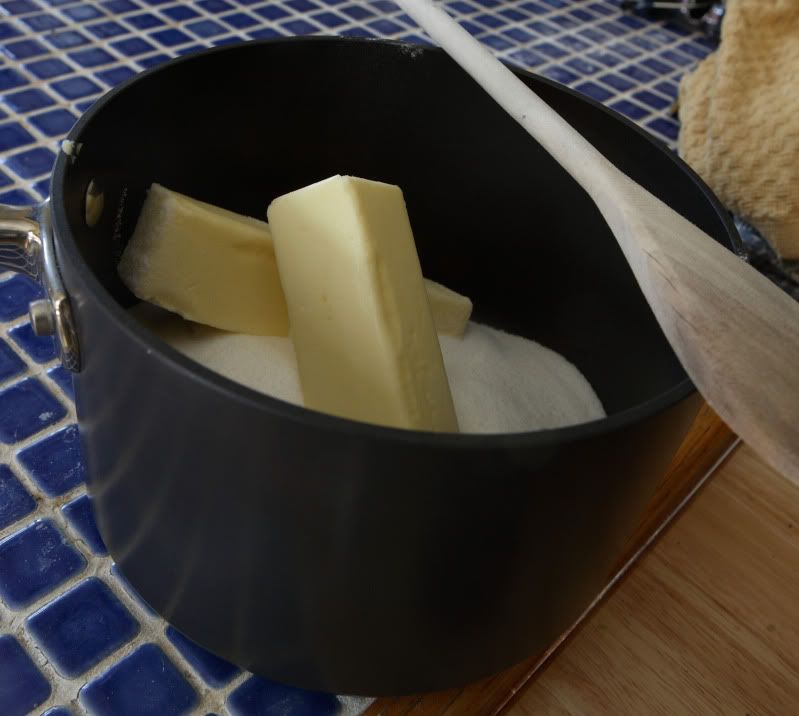 Transfer the mixture to a large bowl and add the cocoa, stirring until smooth.
Add the eggs, one at a time, stirring well after each addition. Then stir in the vanilla.
Add the salt, baking powder, and flour, stirring only until barely smooth - a few traces of flour should be left, like this: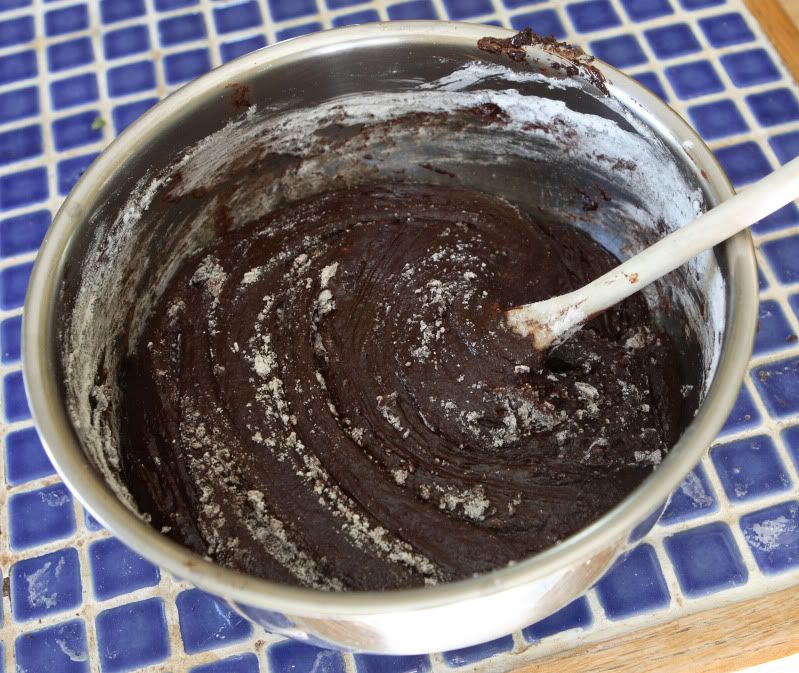 Then stir in the chocolate chips.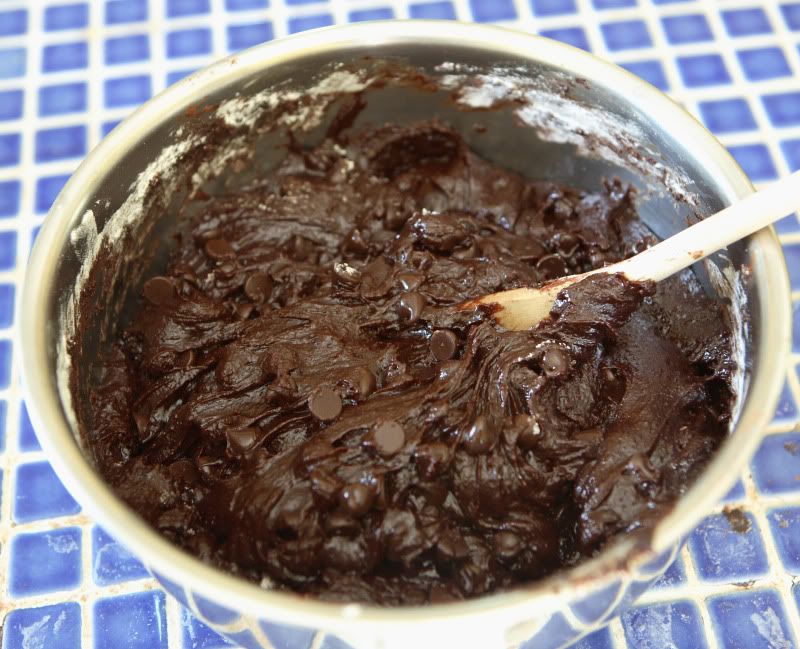 Spread the batter into a lightly greased 9x13 pan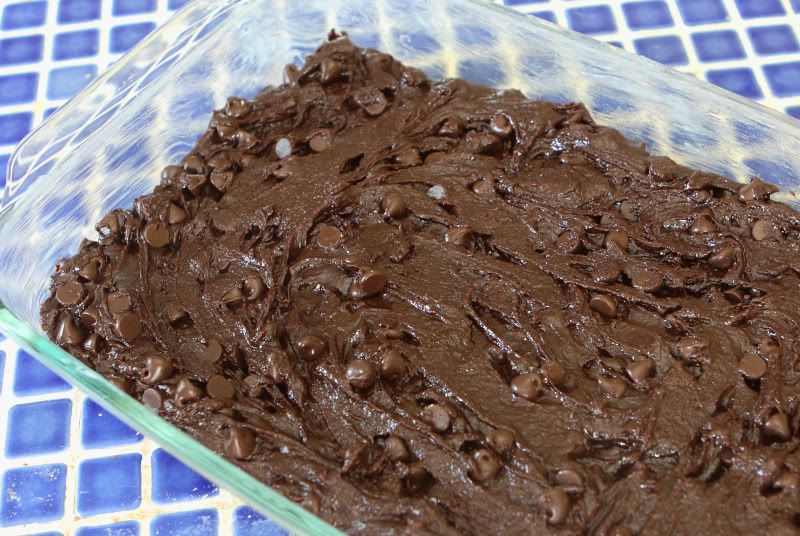 Bake in preheated oven for about 30 minutes, or until a cake tester comes out with just a few moist crumbs.
Cool the pan on a wire rack before serving.