As I previously mentioned, I joined a group called
The Daring Kitchen
: I am now a Daring Baker! I've wanted to join them for a very long time – almost the entire time they've existed! But time constraints kept me from pursuing it…until now.
I am really glad I joined this month, because the challenge recipe is something I have always wanted to make, but never have until now. The May Daring Bakers' challenge was hosted by Linda of
make life sweeter!
and Courtney of
Coco Cooks
. They chose Apple Strudel from the recipe book Kaffeehaus: Exquisite Desserts from the Classic Cafés of Vienna, Budapest and Prague by Rick Rodgers.
The rules of The Daring Kitchen require you to follow the recipe pretty much exactly (substitutions allowed in case of allergy/diet/religion/etc., but you're supposed to stick to the overall recipe as much as possible). The hosts can decide to allow certain substitutions. In this case, we were required to follow the strudel dough recipe as exactly as possible, but we were allowed to be creative with filling and shaping the dough.
I made a double-batch of dough because I wanted to have plenty of dough for practice. I then divided it into thirds. In the future, I'd still make a double batch, because I probably still need more practice! The recipe below is a double batch already, so you don't need to double it unless you want LOTS of practice!
I made apple filling for the first and second portions of my dough. Most apple strudel filling recipes call for raisins and nuts, and I'm not particularly into that, so I left them out. If you're into that, you can try the apple filling suggested in the original recipe.
Also, although the original recipe calls for the dough to be kneaded by hand, I needed to use my stand mixer to perform that task. Regular visitors to this blog have certainly noticed by now my ugly "country blue" tiled countertop...not a favorable surface for kneading dough. (If you're ever thinking about installing a tiled countertop in your kitchen, DON'T! Mine came with the house. And once funding becomes available, it be ripped out and replaced.)
The first step is to make the strudel dough, since it needs to rest for an extended period of time.

Double Batch Strudel Dough
Adapted from "Kaffeehaus – Exquisite Desserts from the Classic Cafés of Vienna, Budapest and Prague" by Rick Rodgers
Makes two large strudel or three smaller strudel
2 2/3 cups (400 g) unbleached flour
1/4 teaspoon salt
14 tablespoons (210 ml) water, plus more if needed
4 tablespoons (60 ml) vegetable oil, plus additional for coating the dough
1 teaspoon cider vinegar
Combine the flour and salt in a stand-mixer fitted with the dough hook attachment. Mix the water, oil and vinegar in a measuring cup. Add the water/oil mixture to the flour with the mixer on low speed. You will get a soft dough. Make sure it is not too dry or too wet, add a little more water or flour if necessary. It should be soft and slightly sticky. Knead the dough in the mixer for about five minutes.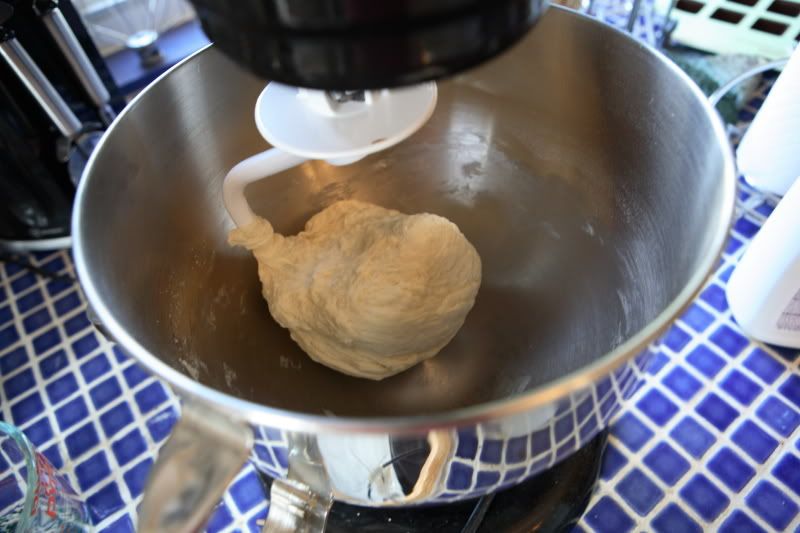 Shape the dough into a ball and transfer it to a plate. Oil the top of the dough ball lightly. Cover the ball tightly with plastic wrap. Allow to stand as long as possible, at least 30-90 minutes. (Mine stood for about seven hours before I started rolling and stretching the dough.)
It would be best if you have a work area that you can walk around on all sides like a 36 inch (90 cm) round table or a work surface of 23 x 38 inches (60 x 100 cm). Cover your working area with cotton tablecloth, dust it with flour and rub it into the fabric.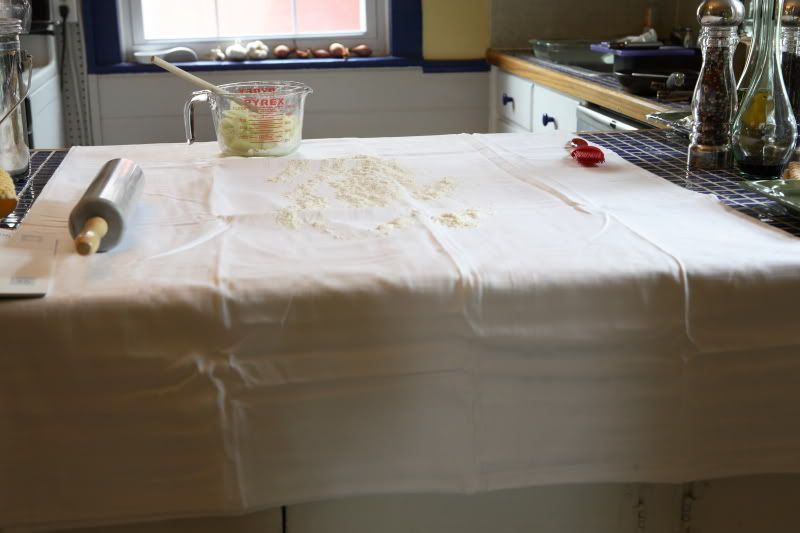 If you're making two strudel, cut the dough ball in half. Put half in the middle of the tablecloth and use a rolling pin to roll it out as much as you can, turning the dough frequently to avoid sticking.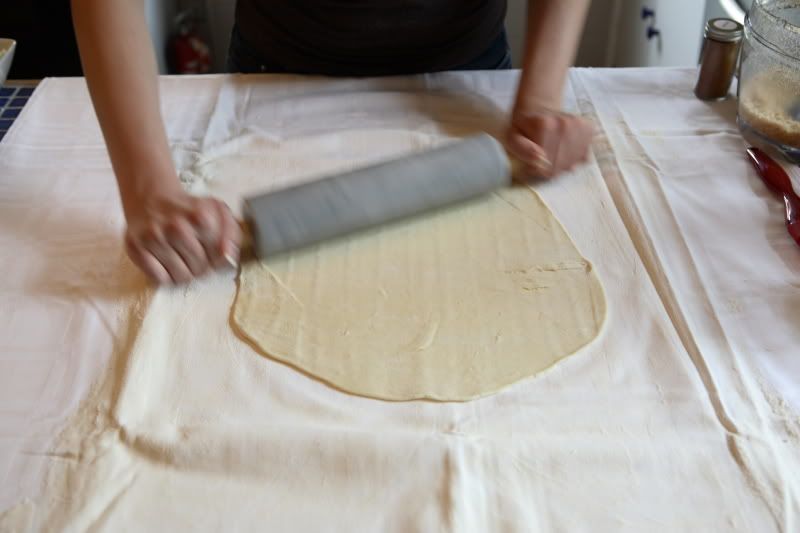 Pick the dough up by holding it by an edge. This way the weight of the dough and gravity can help stretching it as it hangs. Using the back of your hands to gently stretch and pull the dough. If you hold it by your fingertips, you will poke through the dough.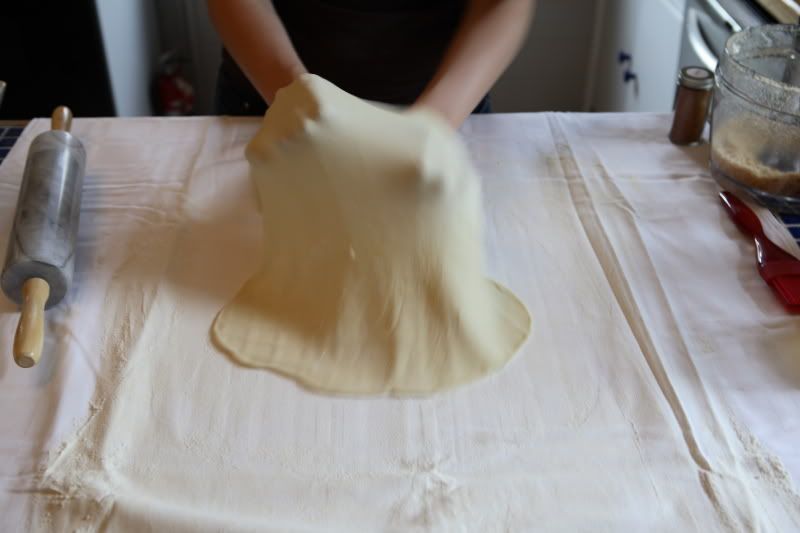 You can also use your forearms to support it.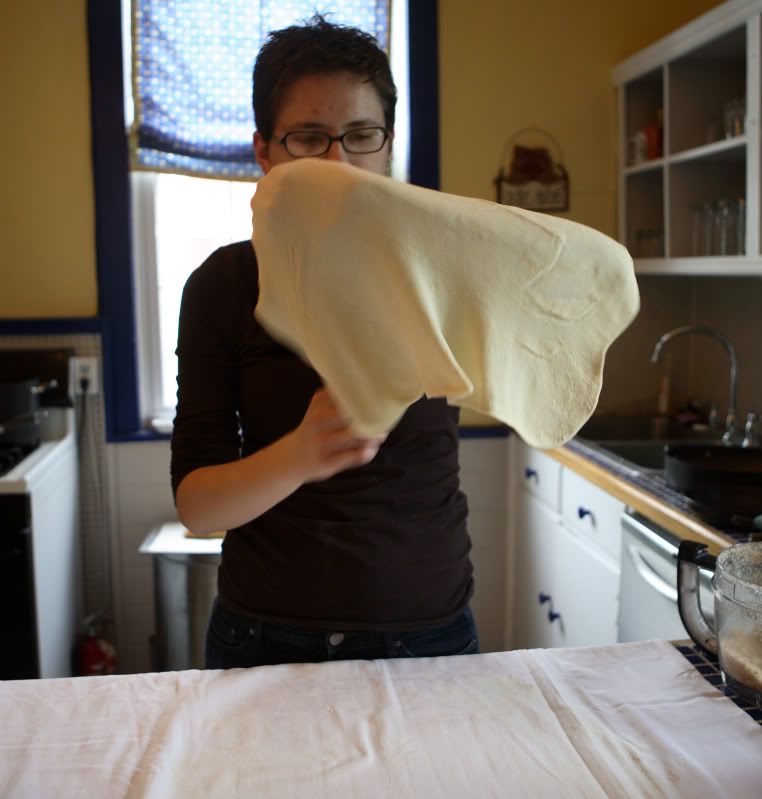 The dough will become too large to hold. Put it on your work surface. If it hangs off the edge, that's fine, and even preferable. Place your hands underneath the dough, and stretch and pull the dough thinner using the backs of your hands. Stretch and pull the dough until it's about 2 feet (60 cm) wide and 3 feet (90 cm) long (that's if you're using half of the dough), it will be tissue-thin by this time. (My dough is smaller because I used about a third of it instead of half of it.) Cut away the thick dough around the edges with scissors or a sharp knife. The dough is now ready to be filled.
Regardless of what kind of filling you make, you'll need toasted breadcrumbs and melted butter:
3 Tbsp butter, plus 8 Tbsp butter
1 1/2 cups (350 ml) fresh bread crumbs, finely processed
In a medium skillet, heat 3 Tbsp butter. Add the fresh bread crumbs and stir to toast. Allow to cool before using in strudel.
In a small saucepan or in the microwave, heat 8 Tbsp butter to melt. Set aside to cool slightly.
The next step is to prepare your filling.
The following recipe is what I used for my apple filling. It should yield enough filling to fill an entire double batch of dough:
Apple Strudel Filling
Makes enough to fill a double batch of dough
2 large apples, peeled, cored, and thinly sliced to about 1/8-inch thick
Juice of half of a lemon
1 Tbsp flour
3/4 tsp ground cinnamon
3/4 tsp ground nutmeg
1 tsp granulated sugar
Mix the apples, lemon juice, and flour together. Set the remaining ingredients aside, as they should be sprinkled on top of the apples as you're filling the strudel dough.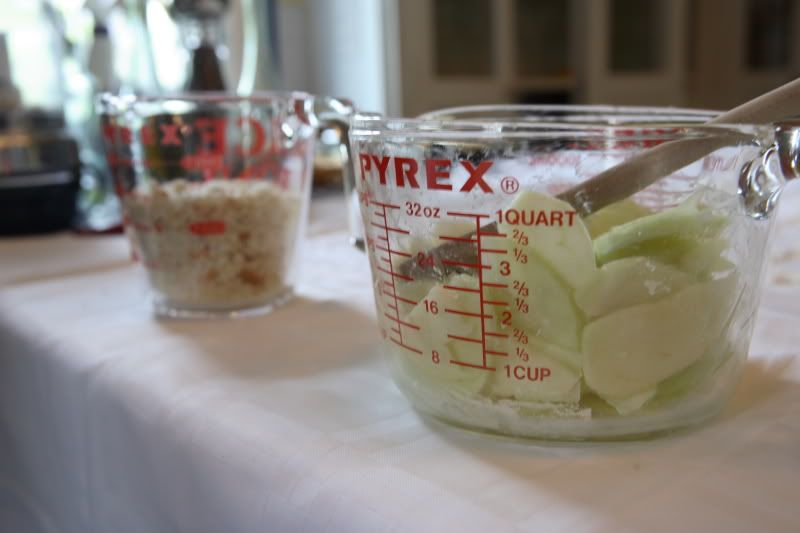 With the third portion of dough I made rhubarb strudel. Since I just needed enough for one small strudel, I only made a little bit, but the recipe below will probably make enough to fill a double batch of dough if you really like rhubarb!
Rhubarb Strudel Filling
Makes enough to fill a double batch of dough
2 cups diced rhubarb, red portions only
1 Tbsp sugar
3/4 tsp ground cinnamon
Sprinkle ingredients on strudel dough individually.
My experience with rhubarb is pretty limited. I never have particularly cared for it...until I tried this rhubarb strudel! Wow, I think I like it even better than the apple variety! Now I feel inspired to try rhubarb in other things!
Once your filling ingredients are prepped, you're ready to fill the rolled and stretched strudel dough.
First, preheat your oven to 400 degrees F. Place a piece of parchment paper on a large baking sheet.
To fill the dough, first brush a thin coat of melted butter over the strudel dough. Then sprinkle bread crumbs evenly over the surface.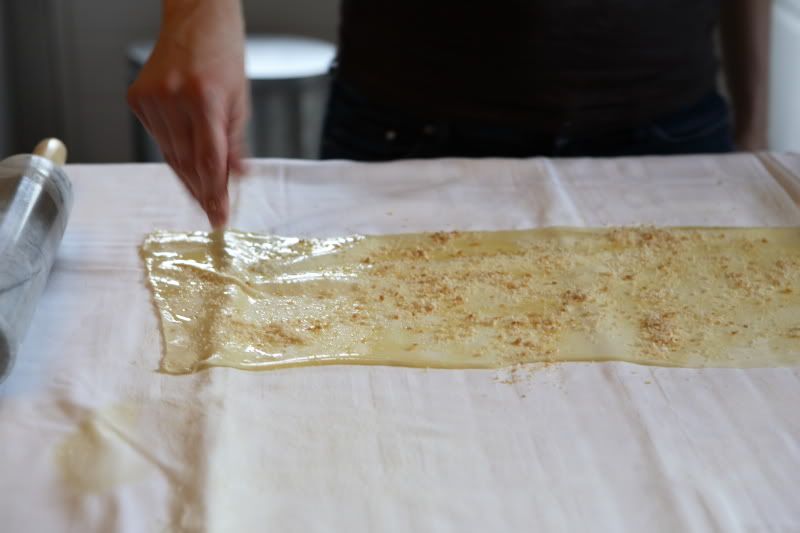 Place your filling ingredients to one side of the dough, sprinkling with the sugar and spices as appropriate for your filling. Leave approximately an inch margin around the sides closest to the edge.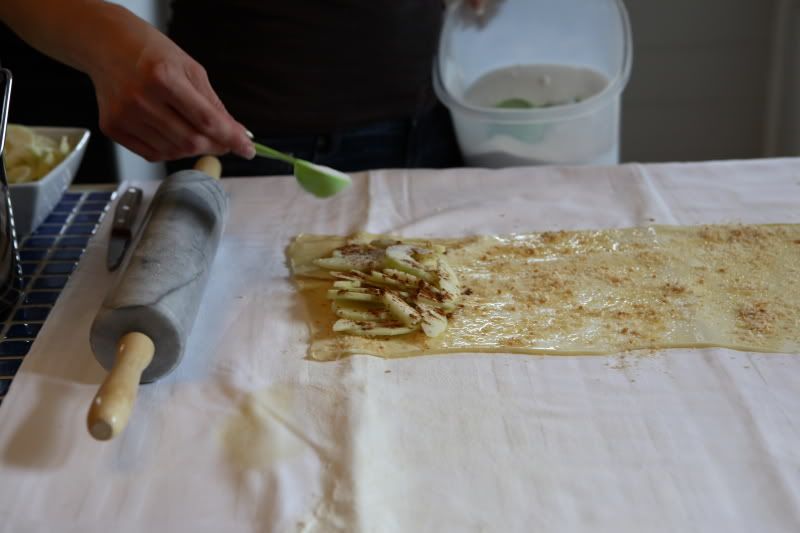 When rolling the dough into a log, use the tablecloth to manipulate the dough. If you handle it with your fingertips, you will puncture the dough.
First, use the tablecloth to fold over the edges along the two sides (length) of the dough.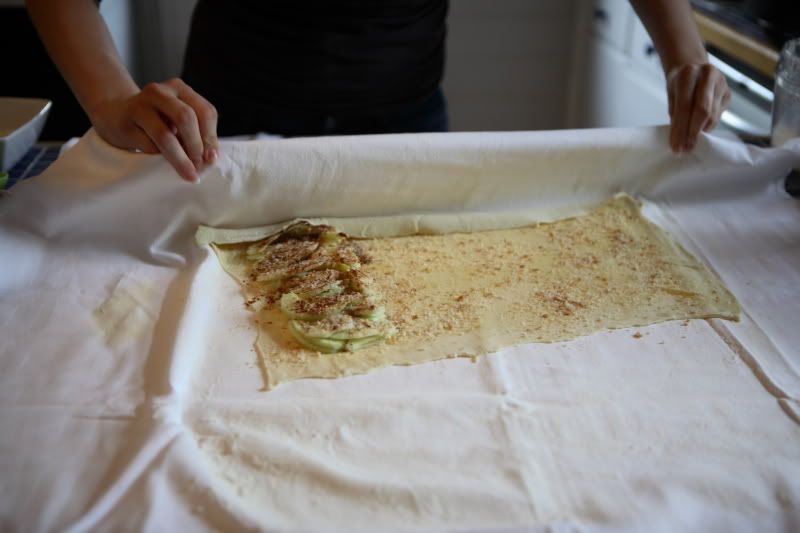 Then, use the tablecloth to nudge the filling over itself to roll up the dough into a log.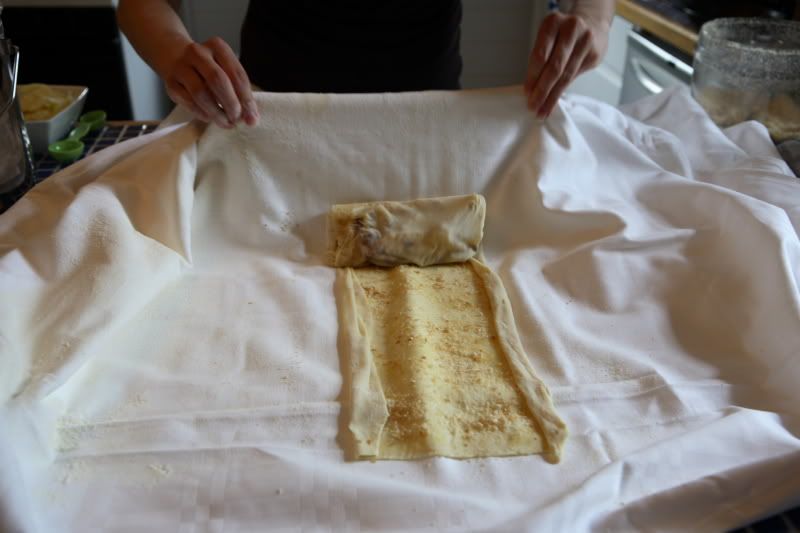 Use the tablecloth as a sling to transport the strudel if it is necessary to carry it from one work surface to another. Roll the dough out of the tablecloth onto your parchment-papered baking sheet. If the strudel is too large for the baking sheet, curve it into a horseshoe shape to make it fit.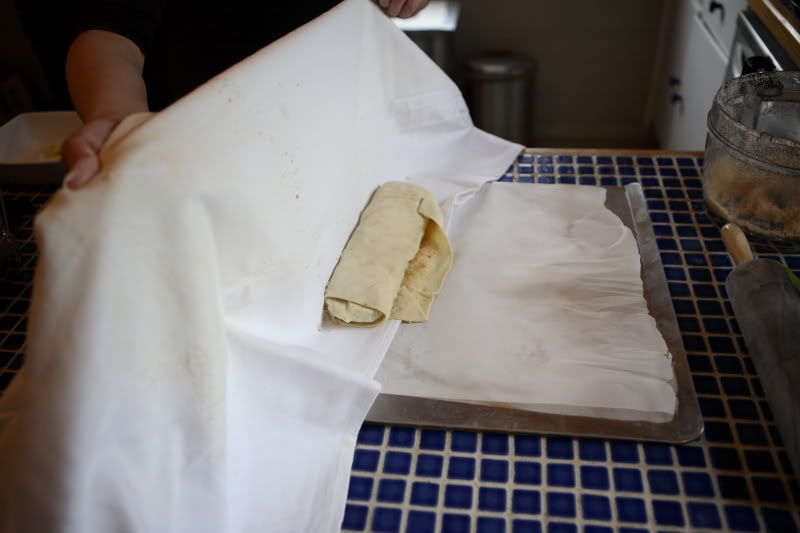 Bake at 400 degrees for 20-30 minutes, depending on the size of your strudel and the thickness of your ingredients. The dough should be golden brown and crispy, any leaking juices should be bubbly, and the filling ingredients should be tender. (My smaller strudels were done at 20, 23, and 27 minutes, depending on their size. Larger strudels might take a little longer.)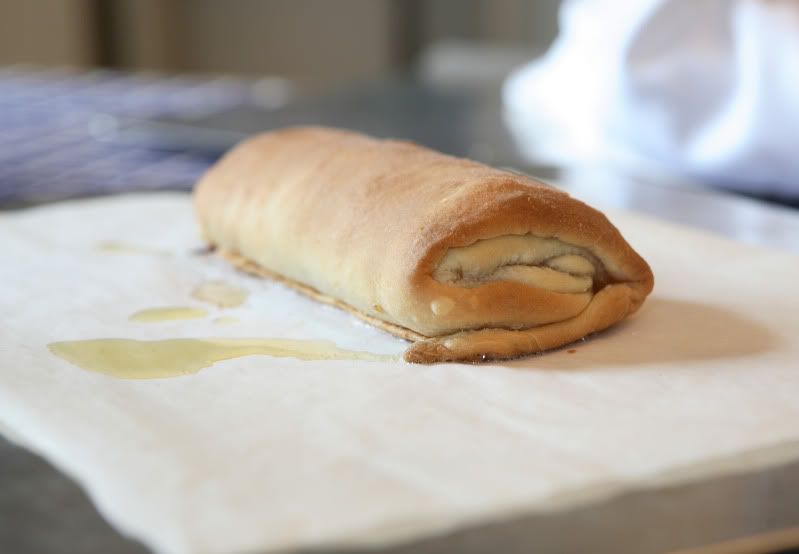 Once the strudel is done, slide a wire cooling rack under the parchment paper and remove the strudel from the warm cookie sheet. Allow the strudel to cool completely before serving. Slice with a sharp serrated knife.
I made a
caramel sauce
to top the baked apple strudel, and sprinkled it with powdered sugar just before serving time.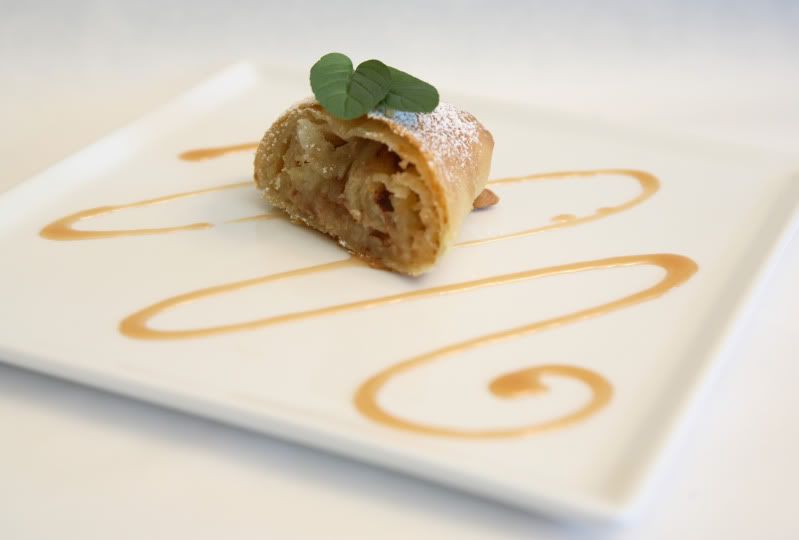 The rhubarb strudel: