I never did care much for cheesecake. – at least, not the kind that is made out of Philly cream cheese. Sometimes I'll be at a restaurant and inadvertently order cheesecake, masqueraded as a chocolate torte, a cake, or a mousse cake, whatever. I tend to dislike cheesecake so much that I usually just pick the crust off the bottom of it and give the remaining filling to my husband.
I know, I know, I can't think of a single other person who doesn't like cheesecake either.
Consequently, I hardly ever make it. In fact, I've made it maybe twice in my life.
But, I recently joined
The Daring Kitchen
(until recently known as The Daring Bakers). I won't be able to post the results of my first challenge recipe (which isn't cheesecake) until May 27. So, to tide you over until then, I made last month's challenge, which WAS cheesecake.
I decided I really wanted to make it because I rarely make cheesecake (might as well improve my baking skills), and because maybe, just maybe, I'll actually like it. The Daring Kitchen is all about doing something new and different, so I am going to do just that.
What kind of cheesecake should I make? That's a no-brainer. In effort to increase the chances that my results will be something I would actually enjoy eating, the cheesecake will be chocolate.
What about the crust? While I do like the standard-issue graham cracker crust, I almost always prefer something chocolaty (you can never have too much of a good thing).
Fortunately, Girl Scout Cookie season ended just a few months ago. I always buy extra boxes of their chocolate mint cookies for exactly this kind of purpose. (Have you ever had cookies & cream ice cream made with crushed mint chocolate Girl Scout cookies? Try it sometime. It's surprisingly amazing.) At any rate, I happened to have a box of cookies left! They became my crust.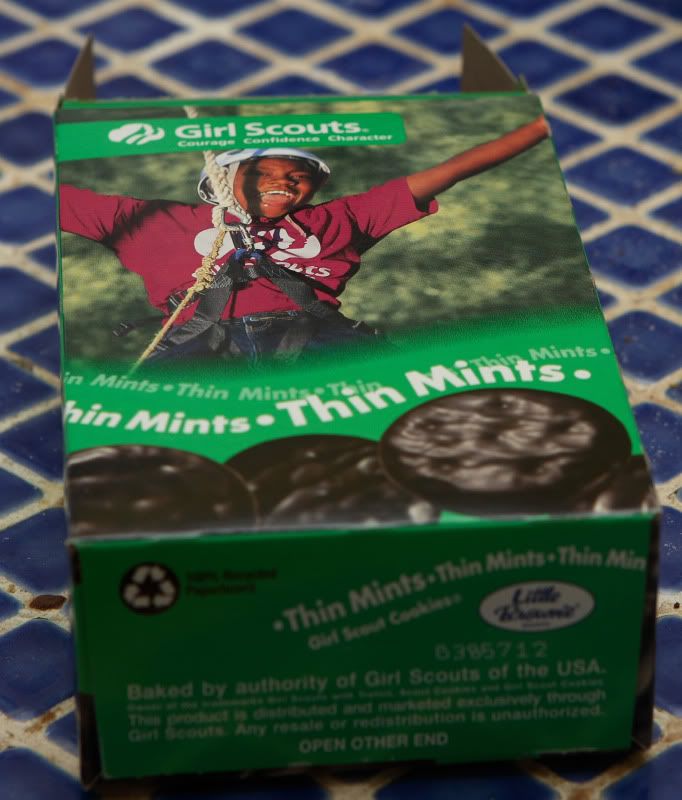 The original recipe was written as a vanilla cheesecake. I added melted 62% cacao Scharffen Berger chocolate and a few tablespoons of crème de menthe (the clear variety) to the cake batter, and used nearly an entire box of Girl Scout cookies as the crust. Although I saved six cookies in case I decided I wanted to use them as garnish, I forgot about the cookies when it came time to garnish the cheesecake...oh well.
Turns out cheesecake is really easy to make! The hardest part is being patient - it takes nearly an hour to bake, plus an hour of resting time inside the oven, plus time to cool to room temperature on your countertop, plus time to chill in the refrigerator. If you don't rush things and use the hot water bath described below, your cheesecake won't crack.
Thanks to Abbey and Jenny, I now have made a cheesecake I actually like! Thanks for converting me, ladies!
The April 2009 challenge is hosted by Jenny from
Jenny Bakes
. She has chosen
Abbey's
Infamous Cheesecake as the challenge. You can find the original recipe at either of their blogs. The version below includes my modifications
Mint Chocolate Cheesecake
Makes one 9-inch cheesecake
8 ounces 62% cacao chocolate, roughly chopped
180 g crushed chocolate mint girl scout cookies, or oreos
2 tbsp. / 24 g sugar
1 stick / 4 oz butter, melted
1 tsp. vanilla extract
3 sticks of cream cheese, 8 oz each (total of 24 oz) at room temperature
1 cup / 210 g sugar
3 large eggs
1 cup / 8 oz heavy cream
2 Tbsp crème de menthe liqueur
Preheat oven to 350 degrees F. Begin to boil a large pot of water for the water bath. Wrap the bottom/sides of a 9-inch springform pan with aluminum foil, keeping the foil watertight.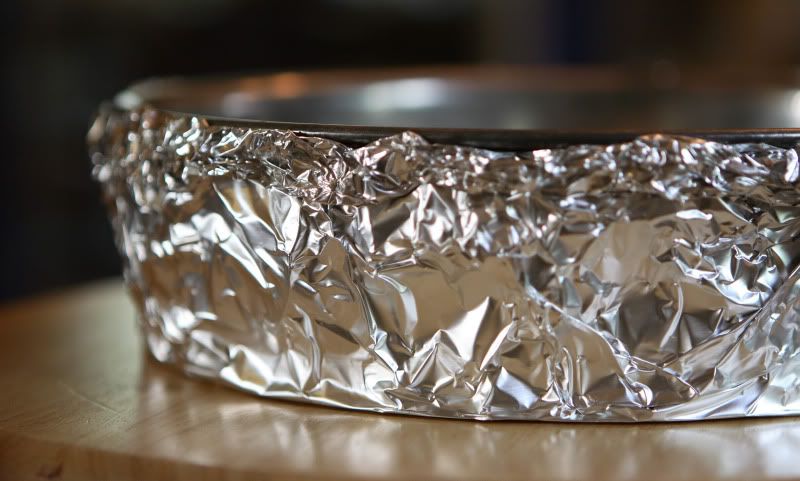 Place pan inside a larger roasting pan and set aside.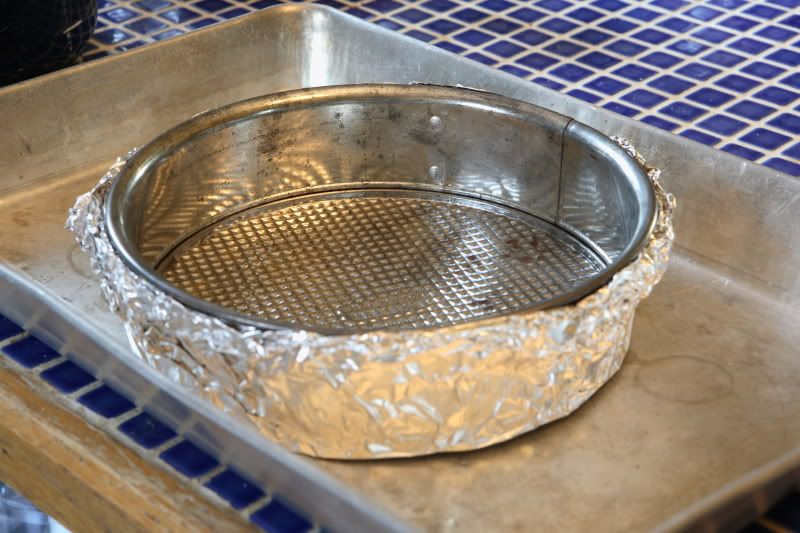 In the top of a double boiler set over simmering water, melt the chocolate, stirring frequently. Once the chocolate has melted, remove it from the heat and set it aside.
In a food processor, finely process the cookies and sugar. Add the melted butter and vanilla and process to combine the ingredients. Press into the prepared springform pan, being careful to avoid ripping the aluminum foil. Return the pan to the roasting pan and set it aside.
Combine chocolate, cream cheese, and sugar in the bowl of a stand-mixer (or in a large bowl if using a hand-mixer) and cream together until smooth. Add eggs, one at a time, fully incorporating each before adding the next. Make sure to scrape down the bowl in between each egg. Add heavy cream and crème de menthe and blend until smooth and creamy.
Scrape the batter into the prepared crust and tap the pan on the counter a few times to bring all air bubbles to the surface. Place pan into the roasting pan and pour boiling water into the larger pan until halfway up the side of the cheesecake pan.
Bake 45 to 55 minutes, until it is almost done - this can be hard to judge, but you're looking for the cake to hold together, but still have a lot of jiggle to it in the center. You don't want it to be completely firm at this stage. Close the oven door, turn the heat off, and let rest in the cooling oven for one hour. This lets the cake finish cooking and cool down gently enough so that it won't crack on the top. After one hour, remove cheesecake from oven and lift carefully out of water bath. Let it finish cooling on the counter, and then cover and put in the fridge to chill. Once fully chilled, it is ready to serve.