A friend of mine was surfing the internet recently and found
this
recipe for Mojito Chicken, by Guy Fieri of Food Network fame. We agreed the recipe needed a few changes (Baking marinated chicken? Obviously it should be GRILLED!) but we both thought the basic idea sounded good. My friend apparently went home and made the recipe for his family, although I'm not sure what kind of changes he made to it. He did mention he cut back on the amount of mint suggested in Guy's original recipe, and I know he grilled the chicken.
I studied the original recipe further, read the accompanying reviews, and came to the conclusion that the recipe was probably too salty, too minty for my taste, and was a lot more elaborate than necessary.
I made one other conclusion: regular grocery store mint just wasn't going to cut it. I never much cared for the strong mint flavor of the stuff the grocer carries, anyway.
The last time I was at the greenhouse/nursery, I saw some interesting varieties of
herbs
, including a variety of mint called "Pineapple Mint." It's beautiful, as far as herbs go, and has fuzzy stems, with ivory and green leaves. True to its name, its leaves have the unmistakable aroma of freshly-cut pineapple. I initially passed on the plant because I was already over budget as it was. But when I saw this recipe and thought of the possibilities presented by Mojito Chicken, I immediately knew I'd have to go back and buy the Pineapple Mint plant for the sole purpose of trying it with this recipe.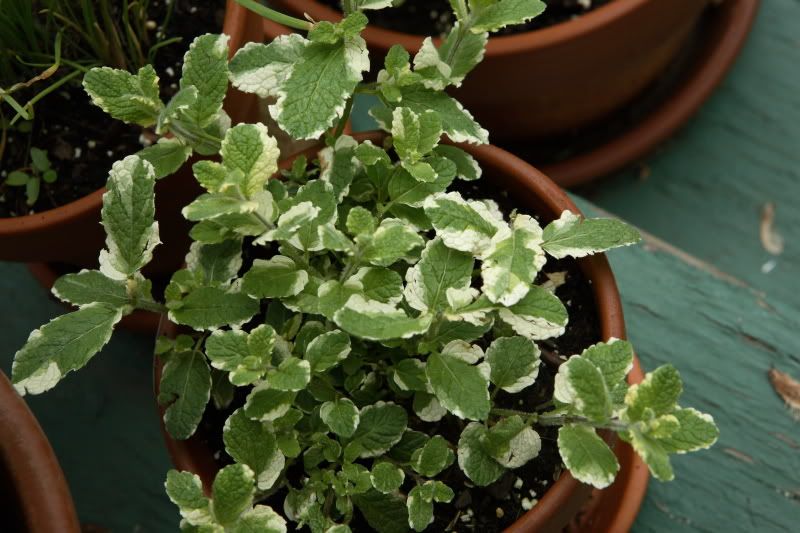 $3.50 well spent. Delicious. Not overwhelmingly minty, just right.
I'd totally recommend picking up some of this plant if you ever see it around!
So, I ended up modifying quite a bit of the original recipe – same basic flavors, but different quantities and different method. It's a lot easier now – mix up some ingredients and wait for the marinade to do its magic. There's no pineapple in the recipe because there wasn't any in Guy Fieri's original recipe, so the recipe title is only a reference to the variety of mint I used.
Usually when I'm grilling chicken breast halves, I slice them horizontally into two flat, thin pieces. They cook more evenly (no dried out, overcooked edges or undercooked centers!). If you have a long, thin, sharp boning knife, give it a try. (Carefully! Don't cut yourself!) You can use a chef's knife too, but a boning knife is easier because there's less knife surface area to stick to the meat. This also helps with portion control...it
looks
like you're eating a full half of a breast, but you're not.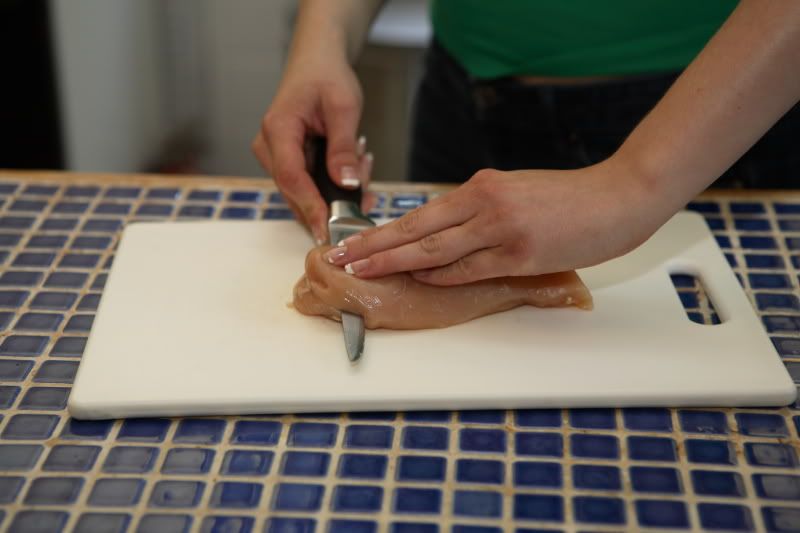 "Pineapple Mint" Chicken
Serves 4-6
2 to 4 halves chicken breast
3 large cloves garlic, pressed or finely chopped
1 large shallot, finely chopped
1/4 tsp cumin
1 Tbsp fresh oregano, finely snipped
1/2 tsp kosher salt
1 tsp freshly ground black pepper
1 tsp paprika
1 Tbsp fresh Pineapple Mint, or another mint variety
2 oranges, juiced
1 lime, juiced
1/4 cup rum (If you're anti-rum, you could sub it out for chicken stock, but the taste won't be the same.)
1/4 cup olive oil
Place the chicken pieces in a dish or heavy plastic bag – something you can use to hold them while they marinate.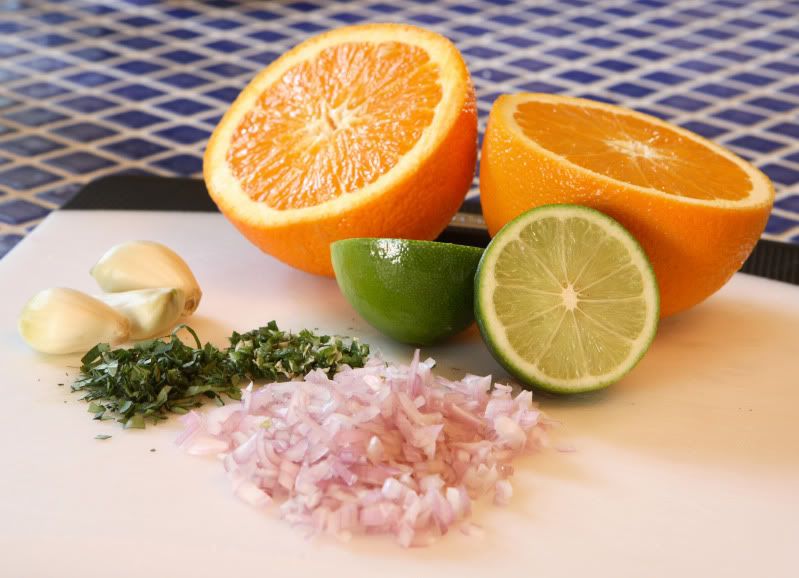 In a medium bowl, mix together remaining ingredients. Pour over chicken. Allow chicken to marinate at least two hours, up to eight hours.
Grill chicken over medium-high heat only until chicken is no longer pink. Turn once. While chicken is grilling, bring the leftover marinade to a boil (kill the germs!). Spoon boiled marinade over chicken as it is grilling.
I served this with a fruit salad (pineapple, strawberries, blackberries, and bananas!) and grilled asparagus and bell peppers. Simple and delicious!