I happen to NOT have much of a green thumb. Not that I maybe couldn't learn how to garden, but I am not sure I'd have time available to keep up with a garden. But I do like fresh herbs, and I am too cheap to buy them from the grocery store every time I want to make dinner.
So I compromise.
I pick up these cute little plugs of already-started plants from my local greenhouse. The hard part – getting the things to grow in the first place – is already done. Now I just have to try not to kill them.
I put these little guys into pots, not into the ground, because I am not a fan of weeding.
When comparing my costs to the cost of buying herbs at the grocer, as long as I get two meals' worth of yield out of each plant, I come out ahead financially.
The other advantage of growing your own herbs is that you are no longer limited to making an entrée that involves only whatever herbs the grocer happens to have in stock.
Here's a sample of what I'm trying to keep alive this summer: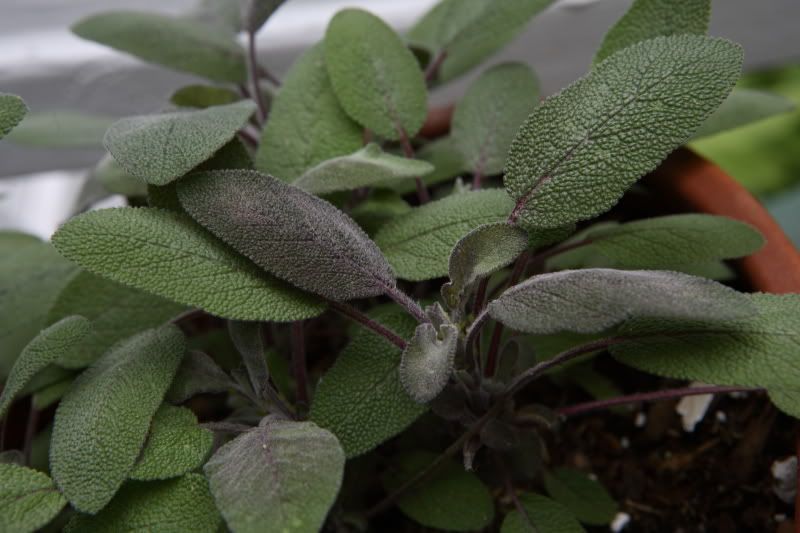 Purple Sage
I tried this last year for the first time, and it really boosted the flavor of my
Brown Butter Pasta Sauce
recipe. So far, this year's is just as good!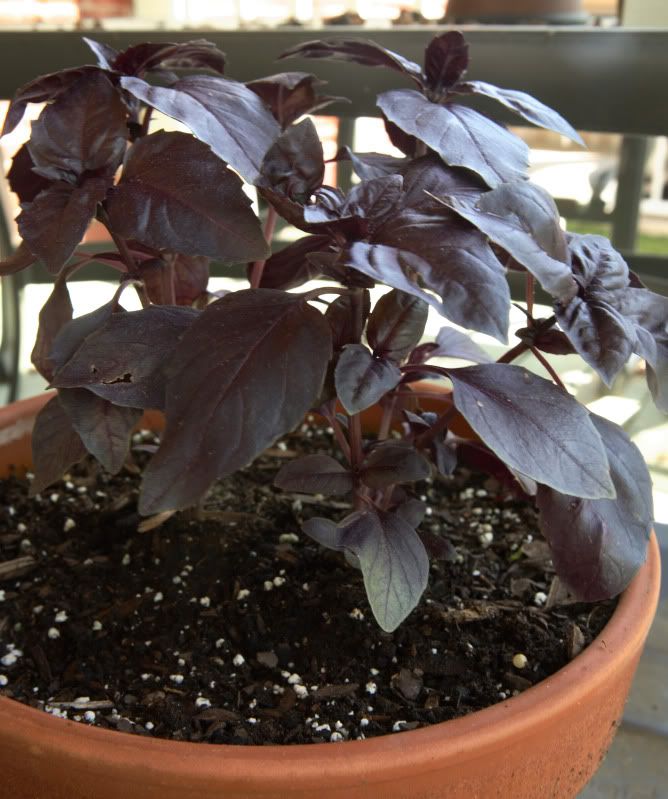 Purple Basil
I love basil, and I especially like experimenting with something other than comparatively boring green basil! The purple basil is so pretty! Last year's purple basil didn't fare too well, so I'm hoping this year's will last a little longer.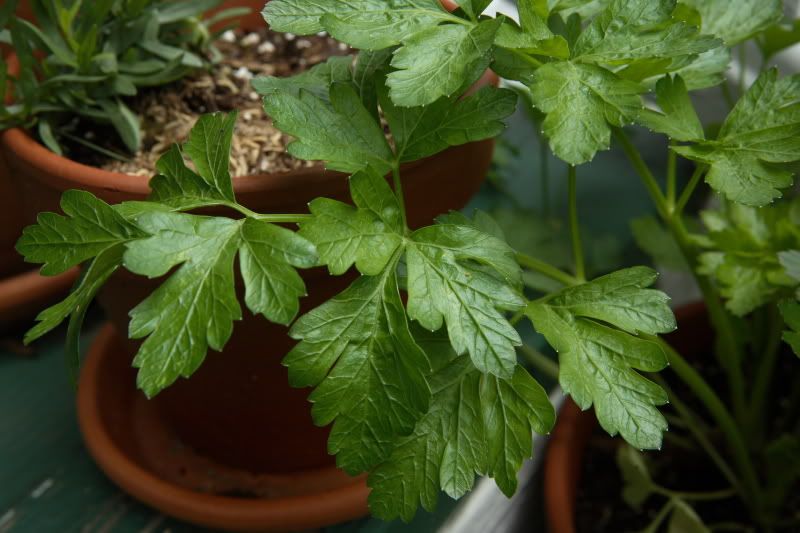 Italian Parsley
I can't cook without parsley!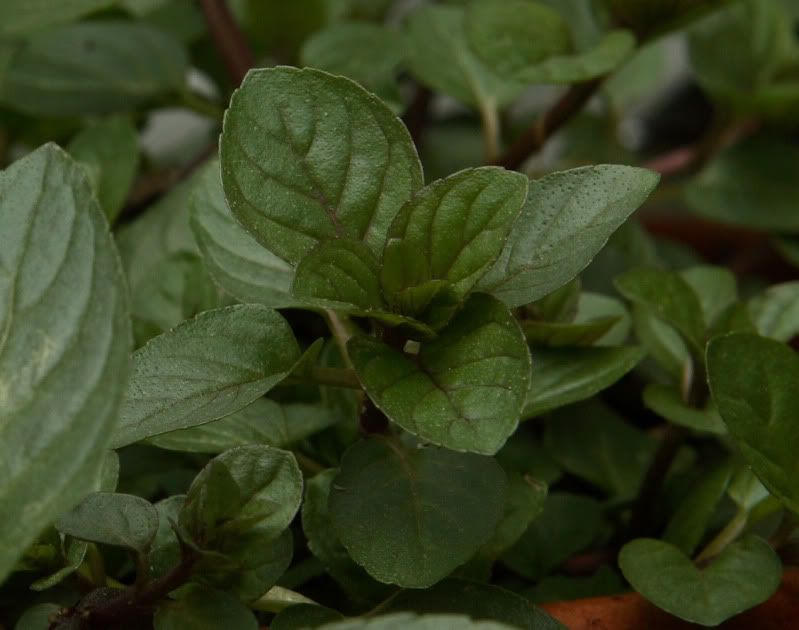 Chocolate Mint
This is an awesome plant. It really and truly tastes like a York Peppermint Patty! I'm not usually a huge mint fan, but I keep this one around so I can use it as garnish on chocolate desserts! And it's a great conversation piece.
Rosemary
Another staple in my kitchen. I love using this in marinades, or using the branches as skewers for kebobs. Although, this year I bought Creeping Rosemary, and it doesn't look like the stems will work as skewers because they're a lot more flexible than regular rosemary.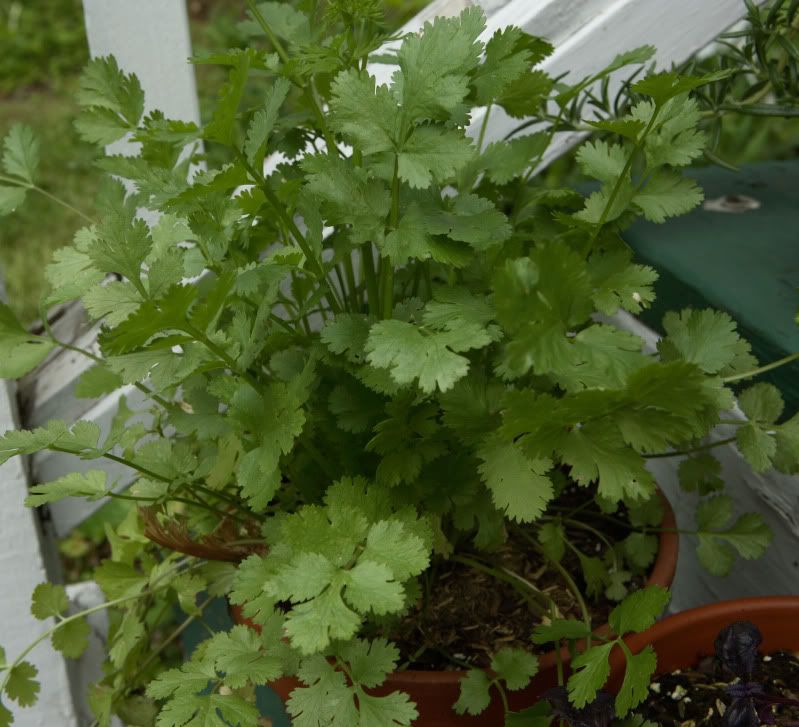 Cilantro
Fresh cilantro really makes Mexican food outstanding!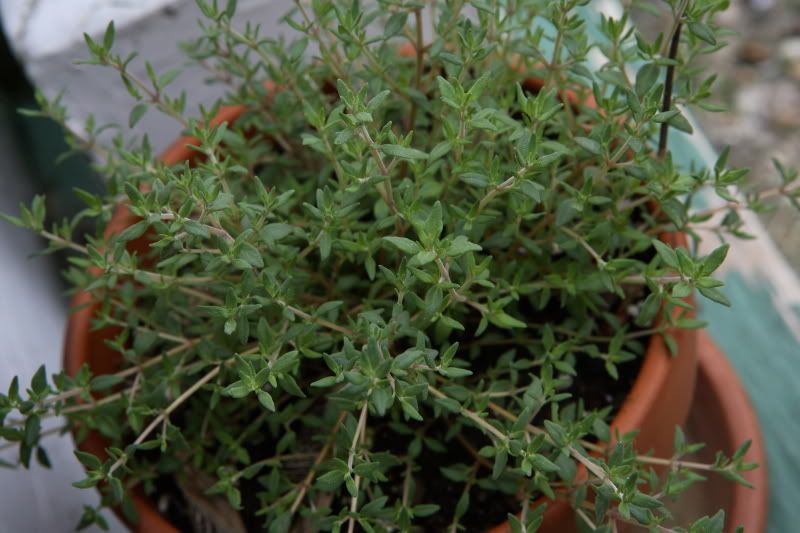 Thyme
Another great herb, so many uses! This one goes right along with rosemary in many of my marinades!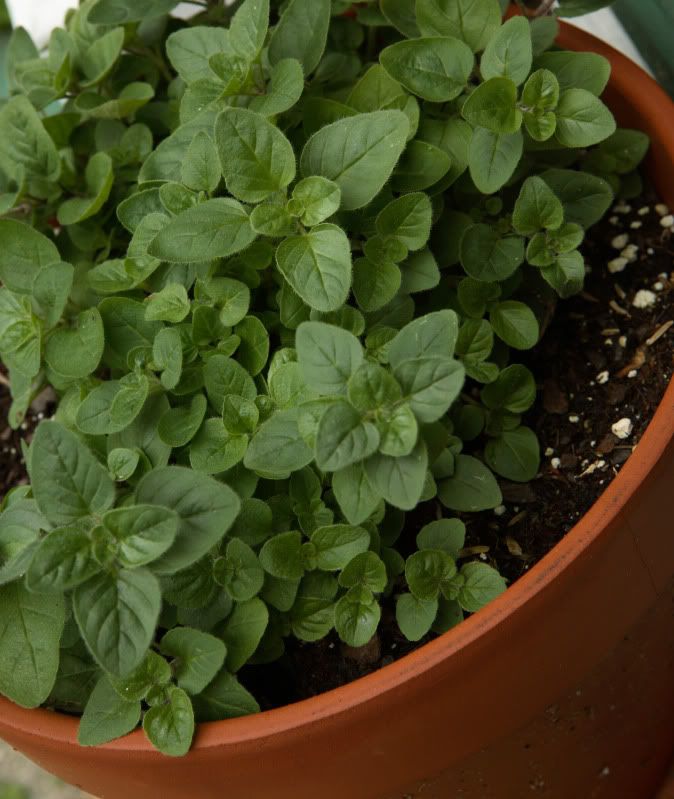 Oregano
So much more than just a pizza herb!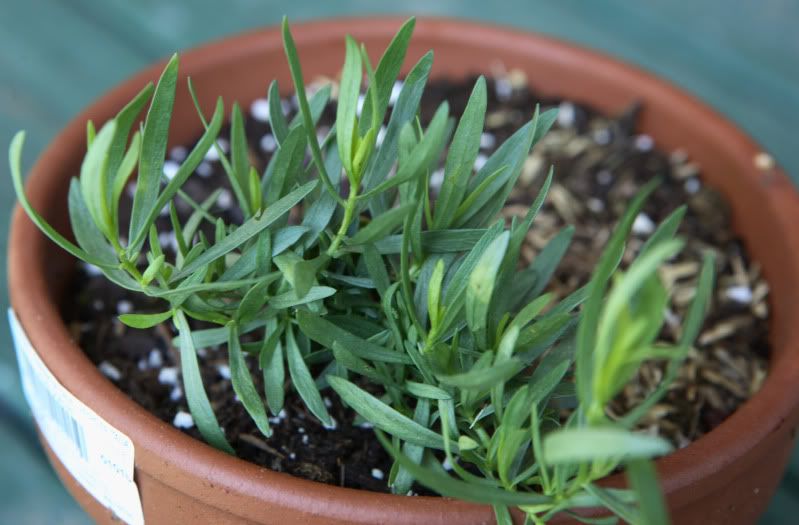 French Tarragon
Unfortunately last year's plant died before I could do anything with it. I'm hoping for better results this year!
Lemon Basil
This makes killer pesto! I can't wait until these babies are full enough to make pesto sauce without totally decimating the plant! Last year I bought Lime Basil because they were out of lemon, and while it was good, the flavor just wasn't the same. Plus, Lemon Pesto leaves grow larger, and are easier to harvest.
Speaking of harvesting leaves, here's some tips for those of you that are beginning herb gardeners:
Don't strip the stem bare (if you really must take all the leaves off of a stem, snip the stem off, don't just pick the leaves off). If you're snipping part of the stem off, cut above new growth, leaving it behind to replace what you just took off. In the Lemon Basil photo shown below, you'd be cutting at the blue line. Or, on many herbs, there are often larger leaves that have grown just underneath where the newest leaves are growing. You can take those larger leaves off too. Cut at the pink lines in the photo below. But, leave behind the new growth - in this photo, that's the two stems in between the blue and pink lines..
If you pick more than you need, stand the herbs up in a cup of water in your fridge. Or, if they're too small to "stand," wrap them up in a moist paper towel and use them up in tomorrow's supper.
To channel your plant's efforts into new plant growth, pick off any flowers that start to grow. It takes awhile for the buds to look like actual flowers, but as soon as you see a fuzzy green bud, pinch it off. I circled the bud in red in the photo below.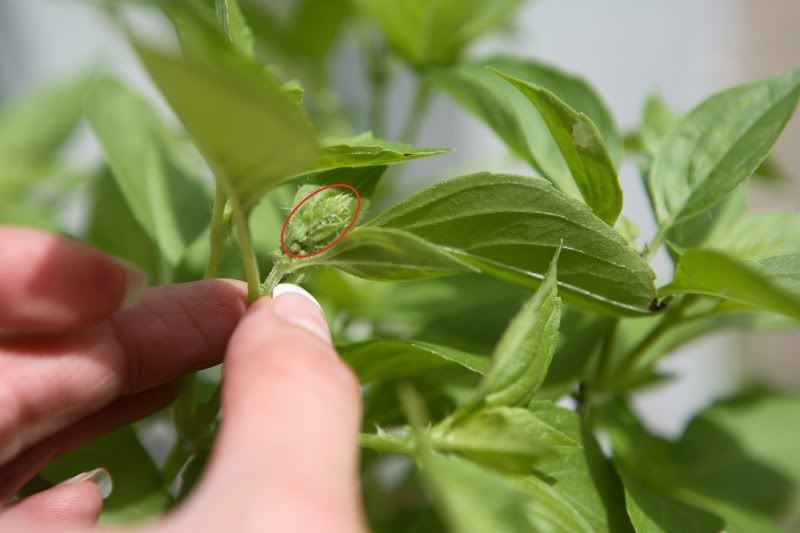 Now, I need a tip from YOU! A cute little rabbit has made a home under the tree in my backyard. I don't mind having him there, but he keeps nibbling away at my plants! How can I convince him that this isn't his own personal buffet? A fence isn't really feasible because the pots are set on my porch steps, a high traffic area. And I don't really want to spray the plants with a bunch of chemicals I don't want to eat myself.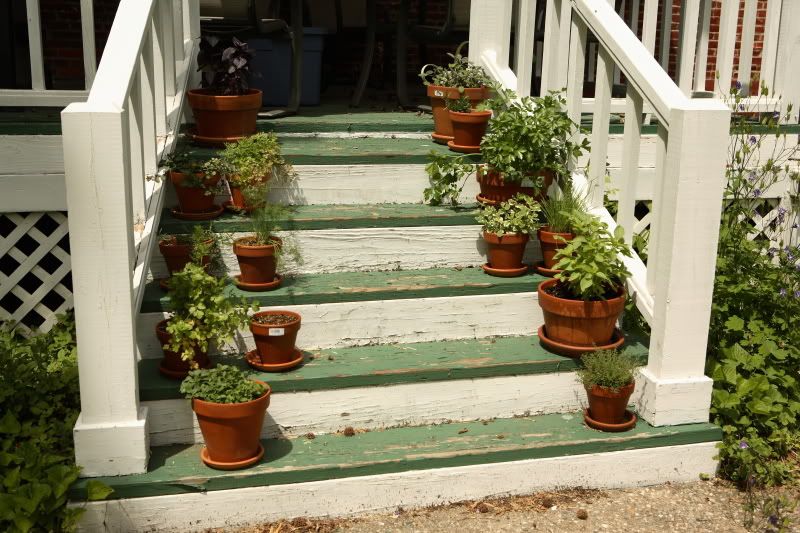 Oh, apparently I already managed to kill one of the plants. I bought a curly-leaved purple basil variety, and it didn't last long. I didn't even get a picture of it! Actually, in all honesty, I think the rabbit ate it, because the plant is just clean gone.