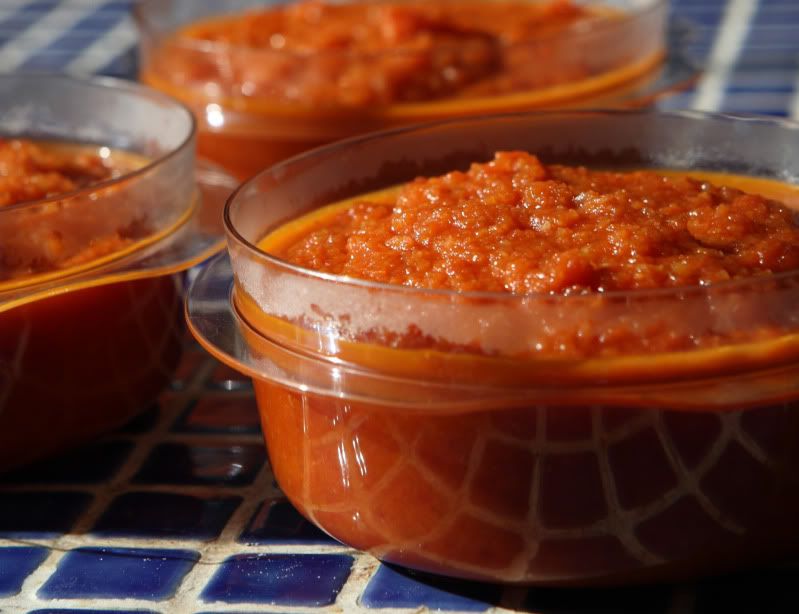 One food I'm kind of picky about is tomato sauce. I usually am disappointed in restaurant tomato sauces – they're usually too sugary, or they have that overstewed-tomato flavor. I prefer a tomato sauce that is fragrant with onions, sweetened primarily by fresh vegetables, and minimally cooked to have the freshest flavor possible.
I like to make my tomato sauce in fairly large quantities. I divide the sauce up and freeze it in small portions so I have it ready when I make a recipe that requires it – no canned or jarred store-bought sauces needed. This recipe will make approximately six cups. You could double the recipe if you really want to make a large batch of sauce.
The sauce will need to be pureed. You can accomplish this in a food processor or blender, or you can use what I think works the best: an immersible stick blender. I'm so bad about hand washing a regular blender (all those parts!) and my food processor isn't entirely liquid-tight (ouch – hot tomatoes!), so I just drop the stick blender into the sauce and give it all a whirl.
This sauce can be used in many things – baked pastas like lasagna or manicotti, served with veal or chicken parmesan, or used to top spaghetti. It can serve as the starting point for several types of flavor profiles. Spicy sausage or shredded basil could be added. A few tablespoons of cream and some parmesan cheese could be used to enrich the sauce. Roasted garlic could be stirred in. The sauce is intentionally left simple and unembellished so you can flavor a few cups of the sauce at a time without committing all six cups to the same flavor profile.
The best thing about this sauce is that it's quite simple to make. I usually make the sauce with good-quality canned
diced
tomatoes because the quality of store-bought tomatoes is usually too unpredictable. Do not use canned
crushed
tomatoes because they tend to be too pasty in texture. If you happen to be making this sauce during prime tomato season, by all means, use fresh tomatoes (peeled, seeded, and roughly chopped).
Big Batch Tomato Sauce
Makes approximately 6 cups of sauce
2 cups chopped yellow onions (one Very Giant Onion yielded two cups for me – but your mileage may vary because like I said, it was GIANT)
2 Tbsp olive oil
2 cups chopped carrots (cut them into 1/4-inch thick slices; this was about six medium-sized carrots for me)
1 cup chopped celery (cut it into 1/4-inch thick slices; this was about four stalks of celery for me)
Three 14.5-ounce cans
diced
tomatoes (and their juices - do not drain! This works out to be approximately 5 cups of tomatoes.)
1 tsp coarse kosher salt
1 Tbsp sugar
Begin by chopping your onions. Place them in a stockpot (mine is 8 quarts). Add the olive oil and cook over medium-high heat until the onions begin to brown – stir them periodically.
While the onions are cooking, chop your carrots and celery. Set them aside until the onions have browned.
Once the onions have begun to brown, stir in the carrots and celery. Reduce the heat to medium and add the tomatoes, salt, and sugar. (Do not confuse the salt and sugar measurements or you'll be sorry…)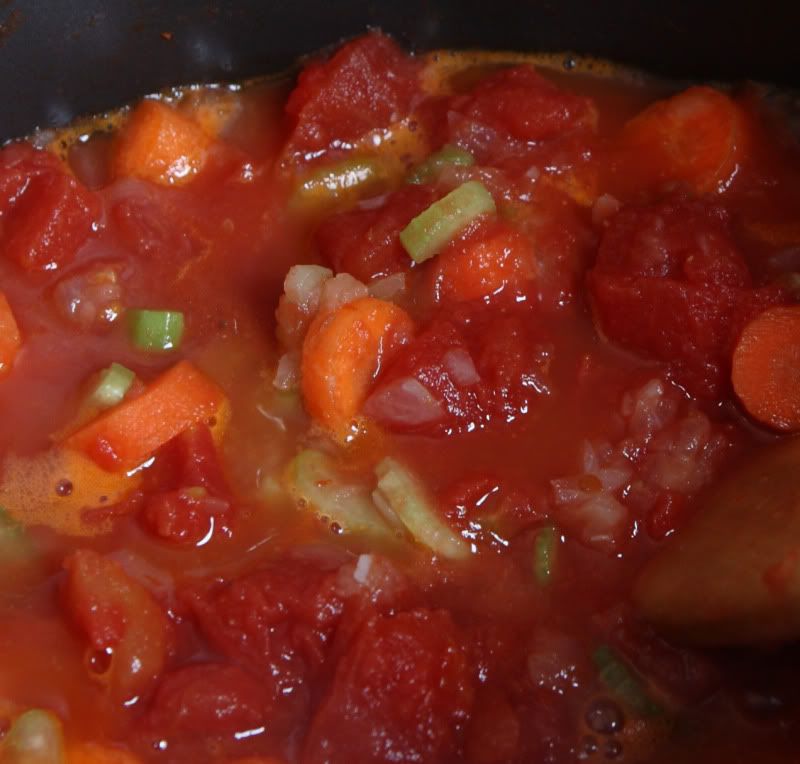 Simmer the tomato mixture, uncovered, over medium heat until the carrots are tender, approximately 20 minutes. Stir the sauce periodically; taste it and adjust the salt/sugar as appropriate.
Once the carrots are tender, puree the sauce. As I mentioned above, I like to use a stick blender, but you could also puree it in a regular blender or in batches in a food processor.
The sauce is ready to use or freeze. I divide my sauce between two-cup (or smaller) containers. Once the sauce has cooled to room temperature, the containers go in the freezer. After the sauce has frozen, I run the sealed container under warm water for a few minutes so I can pop out the "ice cube" of frozen sauce. The sauce cubes go into a large freezer bag for long-term storage.