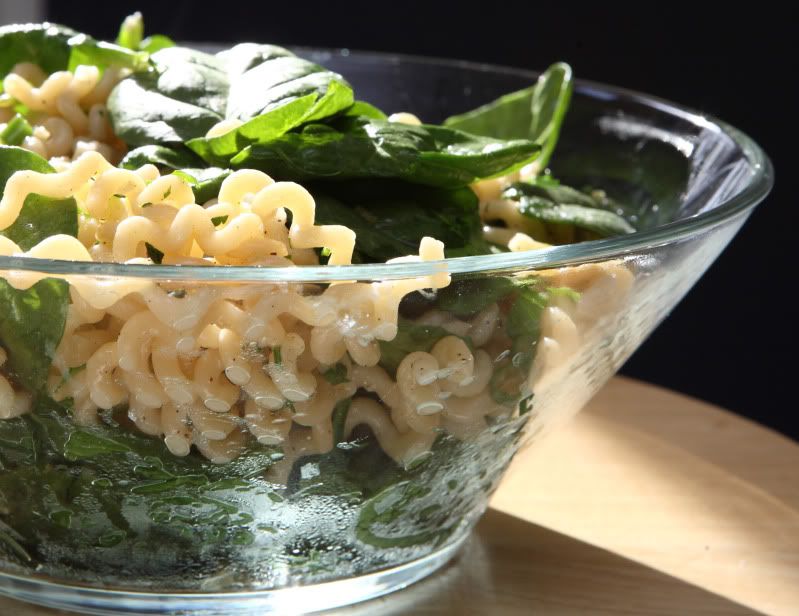 I have a weakness for uniquely-shaped pasta. I could buy a box or bag of pasta every time I go to the grocery store. I have an entire cabinet devoted to pasta storage, and even though I already have every shape imaginable, I can't resist picking more up any time I see something that looks interesting.
To feed my pasta-buying addiction, I visit "The Hill" neighborhood here in St. Louis, the old Italian neighborhood with lots of wonderful restaurants and several fun little grocery stores where good-quality tomatoes, olive oil, wine, and balsamic vinegar are the norm. The pasta selection is outstanding, of course, and you can get a lot of neat shapes I've never seen anywhere else, all imported directly from Italy.
I made this pasta dish with the last half of a bag of fusilli col buco, which is a long, hollow, corkscrew-shaped pasta. It's thick and chewy and works great in a dish like this, with simple accompaniments, where the pasta really stars. Bucatini (the straight version of what I used) would work great: it has the same chewy texture but is a little harder to eat gracefully because it is just a little too thick to swirl around your fork. If you cannot find either specialty pasta, you can use fettuccini or linguine – something thick and chewy, not thin.
Although these subtly flavored, buttery noodles are a great side dish to go with any Italian entrée, they are the perfect accompaniment to something delicately-flavored like
Chicken Piccata
, because the noodles and their sauce will not overpower the Piccata sauce. They're fast and easy to make, and don't require a lot of expensive ingredients. There's just a touch of garlic in them, but it, and the butter, salt, and pepper is all secondary to the pasta.
If you have any leftover noodles, take them to work for lunch – they reheat well in the microwave.
Buttered Pasta
Serves 4 as a side dish (smaller portions)
8 oz pasta
5 oz fresh spinach (least expensive if you buy it from the loose spinach bin, not the prebagged/prewashed kind)
1 loosely-packed cup Italian parsley
4 Tbsp butter
Salt and freshly-ground black pepper
Freshly grated nutmeg
2 cloves garlic, finely chopped
1/3 cup snipped green onions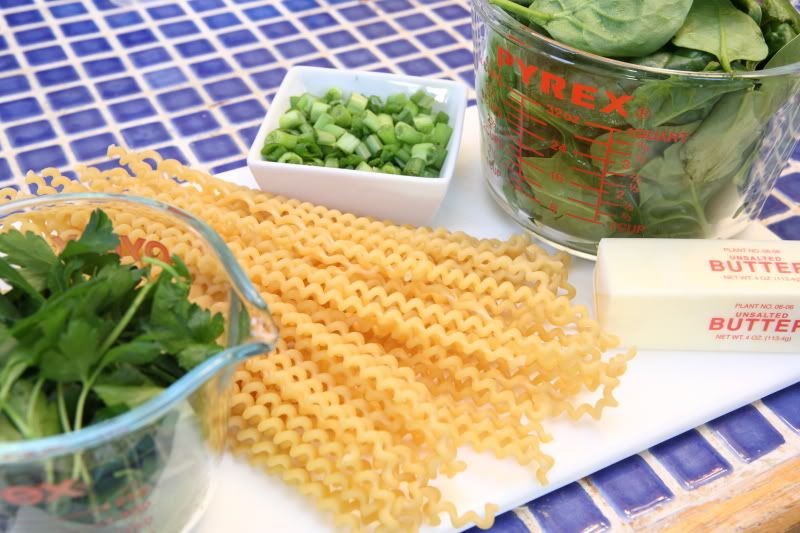 In a large pot (one that has a lid), cook the pasta, uncovered, according to the package directions. Do not overcook the pasta!
Wash and dry the spinach. If the spinach leaves are particularly large, you may wish to roughly chop the spinach. Set it aside.
Chop the parsley – I find the easiest way to do this is to just stick my scissors into the measuring cup and snip away until its all uniformly chopped.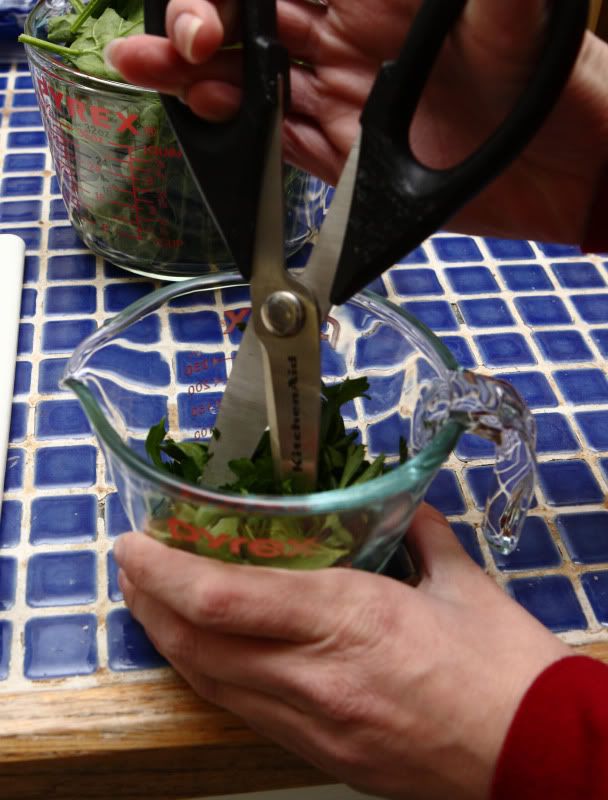 Once the pasta has cooked, drain it and set it aside. In the empty pasta pot, melt the butter over medium heat. Add a pinch of salt, a generous quantity of freshly-ground black pepper, and some freshly grated nutmeg (I usually do equal quantities of black pepper and nutmeg).
Turn the heat to medium-low. Return the pasta to the pot; add the green onions, spinach, and parsley, and stir to incorporate everything. Taste the pasta and adjust the seasonings…you may need more salt. Cover the pot (still on medium-low heat), and wait several minutes until the spinach has wilted slightly, stirring the pasta once or twice to give it all a chance to cook.