Craving steak tacos?
Thinly-sliced, lime-and-cilantro-flavored steak
Fire-roasted red pepper and corn salsa
Spicy jalapeno pinto beans
Cool and refreshing guacamole
I know I am!
Let's get cooking! Many of the ingredients can be prepared ahead of time. Some items can be cooked ahead and simply reheated, or kept warm over a low grill (that's what I do at home when I'm just cooking for the family), or in a slow oven (that works well if you're cooking on a larger scale). I have written the recipes below as if I'm serving them to my family immediately.
All quantities below will serve four people
Steak Marinade
1 lb flank steak, left unsliced
Juice of 2 limes
3 cloves garlic, ran through a garlic press, or chopped
½ of a jalapeno, seeds and ribs removed, chopped (more or less to taste)
2 Tbsp fresh cilantro, chopped
¼ cup olive oil
½ tsp ground cumin
¼ tsp ground paprika
Place the flank steak in a resealable container or heavy zip-lock bag. Add the remaining marinade ingredients and let rest for several hours, or as long as overnight. Turn/shake the bag occasionally to coat everything evenly.
Meanwhile, start the salsa – it needs to go on the grill first.

Fire-roasted Red Pepper and Corn Salsa
2 red peppers, seeds and ribs removed, cut into thirds
1 onion, peeled and quartered
1 Tbsp olive oil
Salt and pepper
2 ears corn, shucked, but with as much of the stems left intact as possible.
One 16-ounce can black beans, rinsed and drained
1 tsp cumin
1 Tbsp fresh flat-leaved Italian parsley, chopped
2 Tbsp fresh cilantro, chopped
Prepare your grill to obtain medium to medium-low heat.
Place the red peppers in a medium bowl. Add the onion, separating each quarter into individual pieces. Drizzle olive oil over the onion mixture; sprinkle with salt and pepper. Toss to coat all pieces.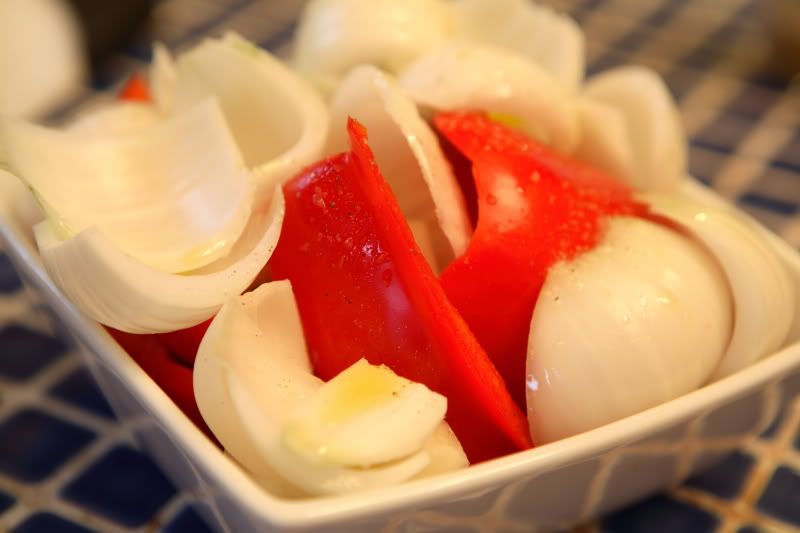 Carefully place the onion mixture on your grill (you might experience a brief flare-up due to the olive oil). Put the shucked corn on the grill at this time, too. Grill over medium to medium-low heat, turning often, until the skin of the peppers starts to blister and the vegetables are cooked through and lightly charred. (Yes, charred skin is ok!)
If you're making the homemade refried beans,
start the first step of that recipe while you're waiting for the peppers and corn to grill. Depending on how fast you are, you might also find this is also a good time to mix up guacamole.
Remove the cooked veggies to a flat working surface, such as a heat-resistant cutting board. Allow the vegetables to cool slightly, then carefully use your fingers or a knife to remove the skins of the peppers and any other excessively charred portions of the vegetables. Roughly chop the peppers and onions, then place them in a large bowl.
Carefully cut the corn kernels off of the corn cobs. The easiest way to do this is to cut off the last inch of the tip of the corncob opposite of the stalk, creating a flat end. Place the end flat on your cutting board and use a large, sharp knife to carefully cut straight down the cob. Oh, and if you left the stalk on the end of the corncob, you've got yourself a nice handle that usually works out pretty well. CUT CAREFULLY! Did I mention that you should be careful while cutting that corn off? Hey, you could also go out and buy a gadget that accomplishes this task for you…but I've never tried it so I can't comment on its real-world practicality. Once you get those corn kernels off of that cob, add the kernels to the onion mixture.
Add the rinsed and drained black beans, cumin, parsley, and cilantro to the onion mixture and gently stir to incorporate everything. If you're not ready to serve the salsa yet, I recommend putting it into a foil packet and placing it in a cooler spot on your grill. It can be moved to a warmer spot and reheated right before serving. Although I prefer the salsa served warm, it is good either hot or cold, so you could refrigerate it if you didn't want to mess around with trying to keep it warm.
Homemade Refried Beans
1 onion, processed or chopped into small pieces
1 Tbsp olive oil
1 jalapeno, seeds and ribs removed, finely chopped
One 16-ounce can pinto beans, undrained
2 Tbsp fresh flat-leaved Italian parsley, chopped
1 Tbsp fresh cilantro, chopped
1 tomato, roughly chopped
Step one: (which I recommend you complete while you're waiting for your veggies to grill if you're making the salsa…) Place the chopped onion and olive oil in a large frying pan with deep sides. Over medium-low heat, cook the onion until it begins to brown, stirring occasionally. If your heat is low enough, this shouldn't require too much babysitting, so go back up and finish that salsa…
The rest of the recipe: (This only needs to heat through…so you can do this last step right before serving time.) Add the chopped jalapeno and undrained pinto beans to the pan. Use a potato masher or the back of a spatula to mash and stir up the beans. I mash about half of the beans for a variation in texture. Stir in the parsley, cilantro, and tomatoes.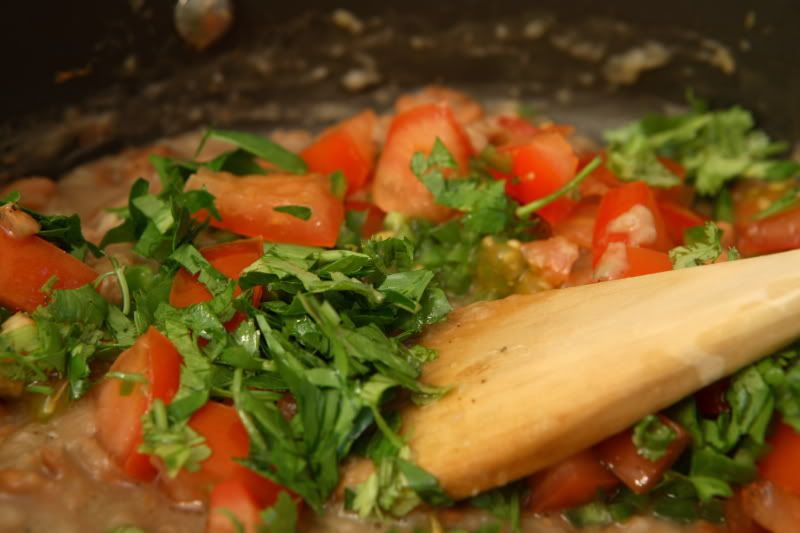 For the tacos
Lettuce
Tomato, chopped
Grated cheese (I usually use Colby-jack)
Soft tortilla shells (I usually use something from the
La Tortilla Factory
lineup – they're a little healthier than most tortilla options I've seen)
Guacamole
2 ripe avocados, halved and pitted.
Salt and pepper
Juice of ½ to 1 lime (to taste)
Use a large spoon to scoop the avocado flesh out of the skins. Add salt, pepper, and lime juice to taste. I don't have a large mortar/pestle, so I just use a big wooden spoon to mash it all up until it's smooth.
Once you've got everything above done, grill up that steak!
Prepare your grill to obtain medium high heat. Flank steak is best served rare or medium-rare. Times will vary, but if you're grilling over medium-high heat, you're probably looking at three or four minutes on each side. Spoon a little of that leftover marinade over the meat as it's cooking (you boiled that marinade first to avoid those germies, didn't you?).
Flank steak has a really obvious striated appearance. Thinly slice the cooked steak perpendicular ACROSS the stripes, NOT parallel to the stripes.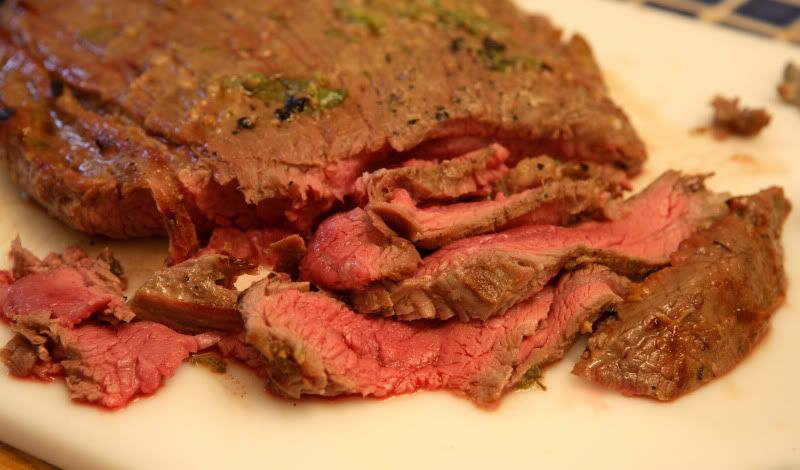 Assemble those tacos and eat! (These tacos are so filling, I find rice and tortilla chips aren't necessary.)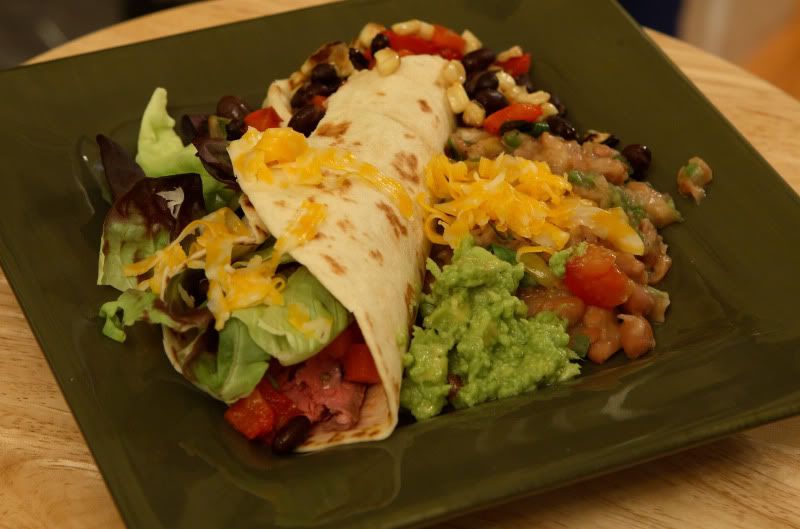 Oh, and if you're a vegetarian, just omit the meat. The beans would be great spooned into the tacos, or try grilling up some marinated portabellas...