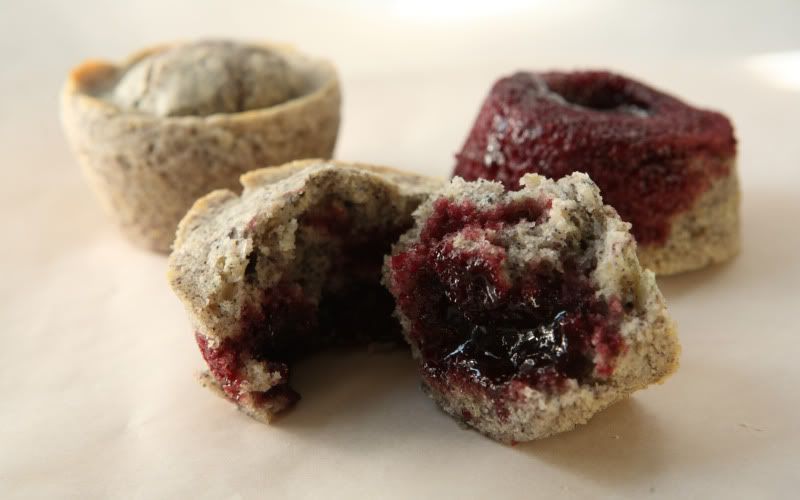 I love Saturday mornings. I don't usually sleep in – I have learned that keeping a consistent daily schedule makes it easier to get up on weekday mornings. Not everyone else in my house has the same theory though, so I usually have a few hours to myself before anyone else wakes up. I occupy my time in the early morning by going for a nice long bike ride, or by making something special for breakfast, or sometimes both!
Depending on what I have in my kitchen, I'll often make pancakes, waffles, French toast, or something similar, especially if I have weekend house guests. If it's just me eating breakfast, I'll often make a quick veggie omelet or chop up some fresh fruit. Sometimes I'll make up some
biscuits and jam
, and recently I made some boysenberry jam-filled cornmeal muffins.
These muffins can be made with any color of cornmeal. I used blue cornmeal, but if you don't have blue cornmeal, just use the more common yellow variety. They taste the same. You can fill the muffins with your favorite kind of jam. I used storebought jam because it's what I had in my fridge, but it would be delicious with a
homemade pan jam
(let it cool before you use it!).
Cornmeal Jelly Muffins
Makes 12 muffins
1 1/4 cup flour
3/4 cup cornmeal (I used a blue variety)
1/4 cup sugar
2 tsp baking powder
1/2 tsp salt
1 cup milk
1/4 cup vegetable oil
1 egg, beaten
Approximately 3/4 cup jelly or jam, your choice of flavor
Preheat your oven to 400 degrees F. Grease 12 muffin cups, or line the tins with paper.
In a medium mixing bowl, combine the flour, cornmeal, sugar, baking powder, and salt. Set aside.
In a 2-cup liquid measure, add the milk and vegetable oil. Drop in the egg, and whisk it together with a fork to combine the ingredients. Pour the mixture into the dry ingredients and mix only until the dry ingredients are all moistened. Fill the muffin tins 2/3 of the way full.
Spoon approximately 1 Tbsp of jelly or jam on top of each unbaked muffin. (The jelly will sink in during the baking process.)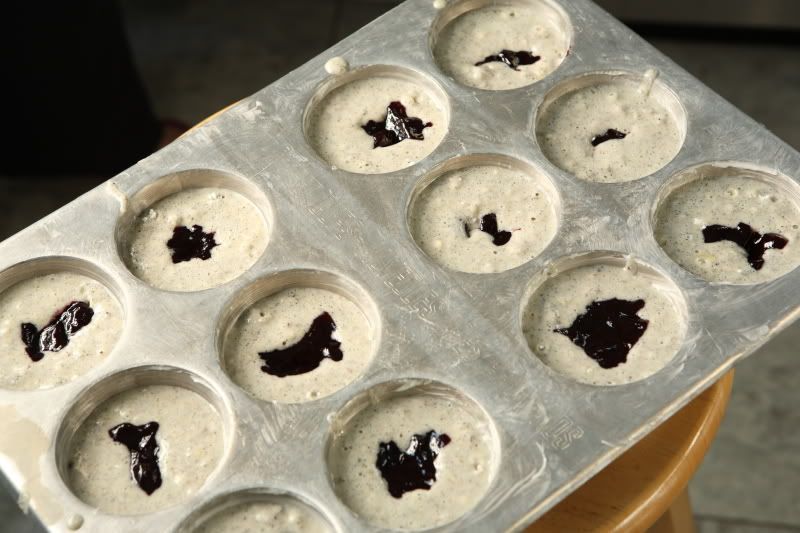 Bake 15-20 minutes, or until they are golden brown. They may take a few minutes longer than you are used to due to the jelly centers. You can use a toothpick to test the muffin – no raw batter should cling to the toothpick when they are done. The jelly will be soft and liquidy.
When the muffins are done, turn them out to cool. Caution, the jelly is very hot. Don't attempt to eat the muffins until they have cooled, or you risk burning your mouth.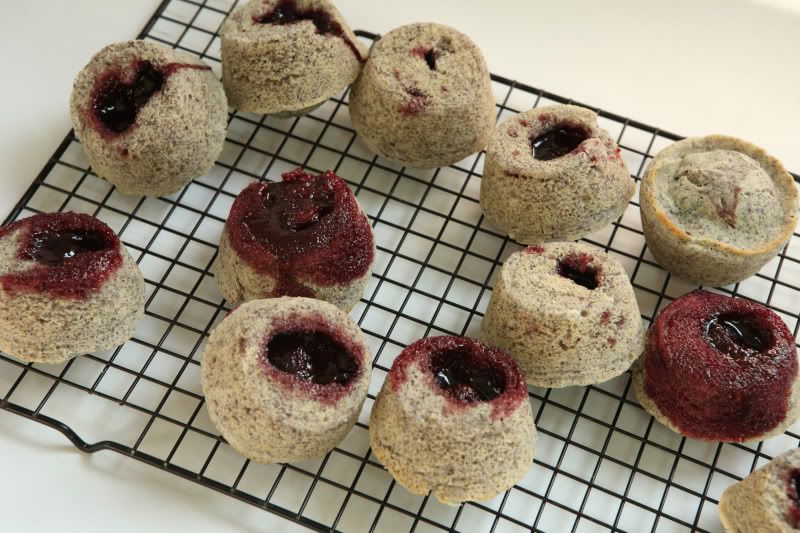 If you want the muffins to be less messy than what's shown in the pictures here, bake them inside muffin papers or use slightly less jam.