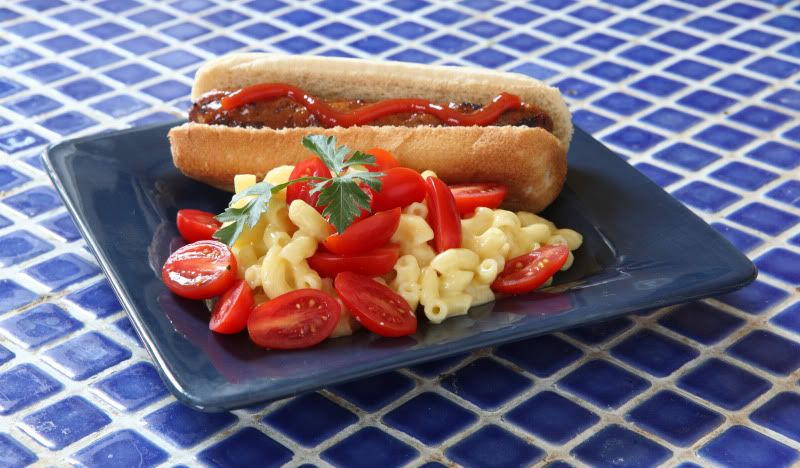 One of my favorite comfort foods of all time is macaroni and cheese. When I was younger, still in high school or college, and didn't yet have any culinary skill to speak of, I only made generic "imitation blue box" macaroni ("generic" due to funding limitations and a general distaste for the Kraft company, and "blue box" due to a lack of culinary skill). Now-a-days, I usually make my mac & cheese homemade, but occasionally I'll bust out a blue box (I like
Annie's
brand) if I'm having a particularly bad day and just need a quick, inexpensive, and fast meal. I like it served alongside barbecued sausage. I know Mom, it's not exactly a healthy meal, so I don't eat it very often!
I do love macaroni and cheese. I get excited when I see it on the menu at sandwich shops, but most of the time it's a let-down once I've tasted it: it's usually not all that great. It always seems to be too runny, too gritty, or the cheese sauce tastes too much like the flour used to thicken it. I want a silky, smooth textured sauce over perfectly al dente macaroni – pasta that hasn't been cooking all afternoon in a giant sheet pan. The sauce shouldn't be too thick, and nor should the pasta be swimming in it – there should be just enough sauce to coat the pasta.
So, like I said, I'm often disappointed.
I found this recipe in
"The Best American Classics,"
which is a
Cooks Illustrated
cookbook. I have a couple of their cookbooks, and while I don't always agree with what their opinion of "best" may be ("best" is so subjective!), I do agree with them in this case…well, mostly. I've written my changes into the version you'll find here.
This recipe is made on the stovetop. It's almost as simple as blue-box macaroni (it does require a bit more stirring), yet it tastes so much better. There's no long baking time involved, so like the boxed variety, you can make it on the spur of the moment. It makes more than a family-sized blue box, so I always have leftovers to take to work.
Speaking of leftovers, the best way to reheat any kind of macaroni and cheese is in a saucepan over medium-low heat, with a splash of milk or other dairy added to help recreate the sauce. I usually don't put that much effort into reheating lunch at work, so I just stick it in the microwave and eat it even though the texture of the sauce has changed slightly. (It still has great flavor, though!)
The original recipe is written to include a toasted bread crumb topping, but I never bother with it. I like mine topped with chopped tomatoes instead. Not only is it better for you, but the sweet juicy tomatoes are a nice counterpart to the salty, cheesy pasta.
Creamy Homemade Stovetop Macaroni and Cheese
Serves 6-8, unless you are a big macaroni eater, in which case it might yield closer to 4 servings.
1 can evaporated milk
2 large eggs
1/4 tsp hot pepper sauce (like Tabasco sauce)
2 tsp salt
1/4 tsp ground black pepper
1/4 tsp dry mustard
1/2 pound macaroni
4 Tbsp unsalted butter
12 ounces sharp cheddar (I used
Tilamook Vintage White Extra Sharp Cheddar
)
1 cup chopped tomato (either 1 cup of sliced "baby" tomatoes, or 1 chopped "regular" tomato should be about the right amount)
In a two-cup liquid measure, use a fork to whisk together 1 cup of evaporated milk, the eggs, hot pepper sauce, 1 tsp of salt, and the dry mustard. Set it aside.
Meanwhile, cook the pasta according to package directions. Use a large pot, and if you have a nonstick one, use it. (Tip: select a pot that's slightly larger than what I used in these pictures, because I thought the pot was too small once I got to the last few steps. Oops!). Cook the macaroni only until barely al dente.
While the pasta is cooking, grate the cheese. For this much cheese, I use the shredding (grating) disc in my food processor.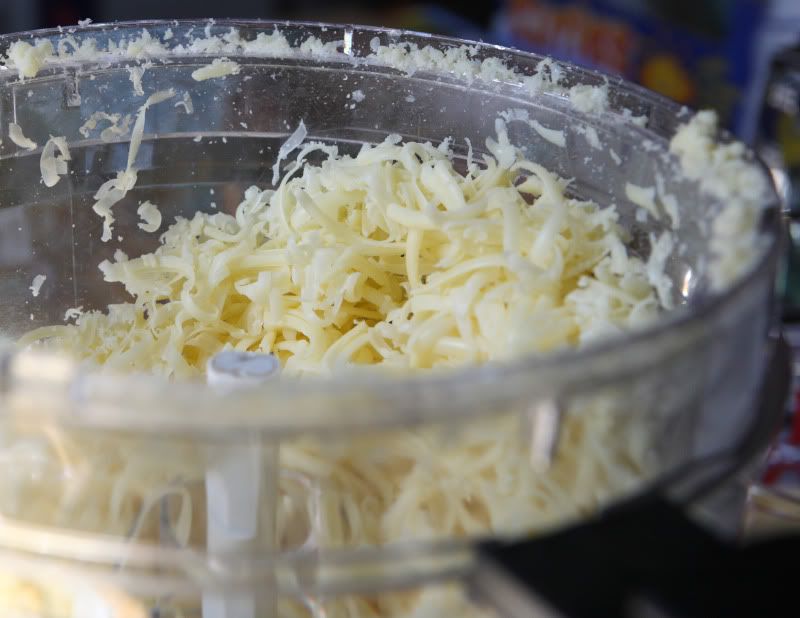 Once the pasta has cooked, drain it and return it to the pot. Add the butter and stir over medium heat until it has melted.
Pour the egg mixture over the buttered noodles. Sprinkle about half of the cheese over the pasta. Stir constantly over medium-low heat until the sauce thickens and the mixture is hot and creamy, about five minutes. Yes, it's a lot of stirring, but you've got to do it in order to properly cook the eggs. Don't let the mixture boil; if the pan starts sizzling when you're stirring, it's too hot. (Remember, medium-low heat!) In general, if it seems runny, you haven't cooked/stirred it long enough. Keep the heat on medium-low and keep stirring, and it should end up just fine.
As you near the end of the five-minute stirring time, add the rest of the cheese and the remaining evaporated milk. Stir it just long enough to incorporate everything and melt the cheese. Taste it, and sprinkle the remaining teaspoon of salt over the pasta (or salt to taste, because cheeses vary in saltiness). Stir to incorporate the salt, then taste it again just to be sure things aren't too salty.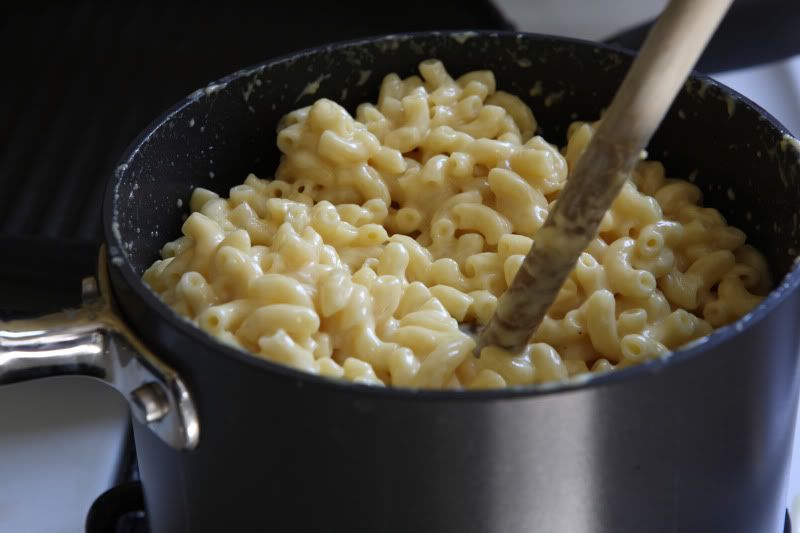 Serve immediately, topped with a handful of chopped tomatoes.
I mentioned earlier that I liked mine served with sausage… I love bratwurst, but it's sooo unhealthy that I rarely serve them. I have found an alternative that I've been enjoying lately: chicken sausage!
Costco carries an andouille chicken sausage (sorry, the exact brand is not listed online, but it probably doesn't matter because the available brands and flavors vary by location anyway. Over the years, I've tried several different brands of chicken sausage from both Midwestern American and Western Canadian Costcos, and I liked both of the varieties available from both regions, so maybe your nearest Costco has a brand you'd like).
I also found a different chicken sausage at my local grocery store:
Al Fresco
brand Sweet Apple Chicken Sausage (it has Maple Syrup in it – yum!). They have several other interesting-sounding flavors, which I haven't yet tried. It's more expensive than buying in bulk at Costco, but truthfully, I think it tastes better. (Maybe I just liked it because of the maple syrup. Me?!?!)
By the way, the sausage in the picture at the beginning of this post is the Costco andouille sausage.
Oh, and if you want to slightly lower the carbs in the dish (it is pasta, after all!), you could omit the bun, slice up the grilled sausage, and serve it mixed into the macaroni.