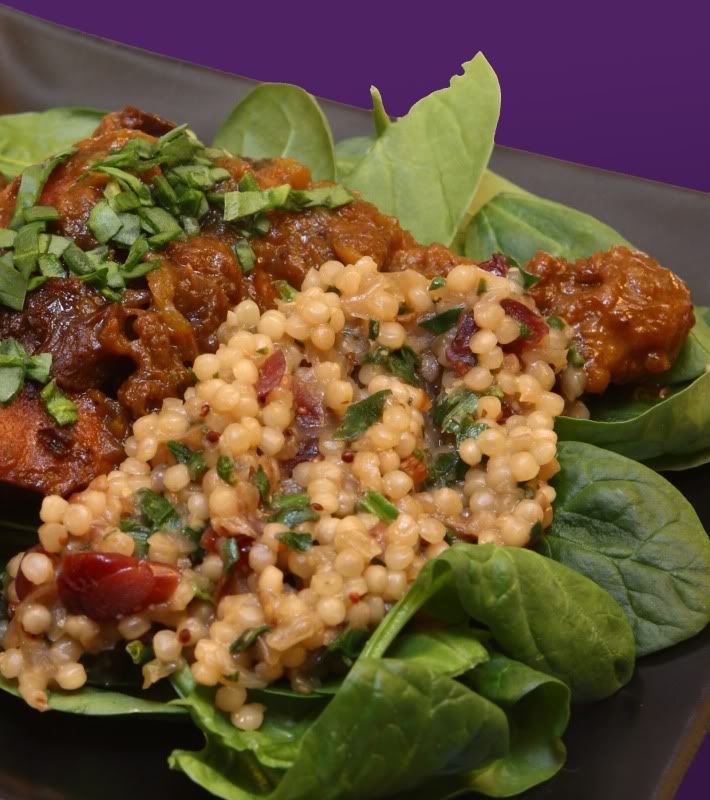 A week or so ago, we invited some family over for dinner and to check out the house we recently bought. While my hubby gave them a tour of the house, I cooked up Moroccan Braised Chicken,
Roasted Root Vegetables
,
Cranberry-Spinach Couscous
, and
Warm Chocolate Pudding "Cakes"
with ice cream. Everything seemed to be a hit – there were no leftovers!
The Moroccan Braised Chicken recipe originally came from the October 2006 issue of Everyday Food magazine. The recipe is so good, it's the reason I bought a subscription. It's also extremely simple and easy to do for a crowd, since most of the cooking time is hands-off and you can prep most of it easily. Since I usually make this for guests, I have rewritten it to show the method I use when serving company. This recipe can easily be doubled, tripled, quadrupled, etc. – I have made it for as many as 70 people - simple, if you have big enough stockpots!
There are two key ingredients that I have found make more of a difference than I initially realized: the dried plums and the chicken stock. If you can find the cherry-essence plums (I use
Sunsweet
brand), the cherry flavor adds another subtle, delicious dimension to the recipe. (Of course, if you happen to have a plum tree and dry your own plums like my mom does, use those instead.) And, the chicken stock is integral to the flavor of the dish. If you have homemade stock, use it. If you must use store-bought stock, use only the best low-sodium variety you can find.
Moroccan Braised Chicken
Serves 6
6 whole chicken legs, drumsticks and thighs attached, skin removed
Coarse salt, ground black pepper, and paprika, for seasoning
1 generous tsp turmeric
1 generous tsp ground ginger
½ generous tsp ground cinnamon
1 ½ cups dried plums, finely chopped
1 large onion, chopped
Olive oil, for panfrying
2 cups best-quality chicken stock
If you're making this for guests, I strongly suggest prepping everything in advance. I chop everything up, measure out the spices, and put the ingredients in individual containers so all I have to do at the last minute is dump things into the pot. Even if I'm not making this for a crowd, the mise en place helps things go more smoothly in preparing a weeknight dinner. So, with that in mind…
Season the
chicken
generously on both sides with
salt
,
pepper
, and
paprika
. Set the pieces aside.
If you're making this for a crowd, go ahead and measure out the
turmeric
,
ginger
, and
cinnamon
; set it all aside.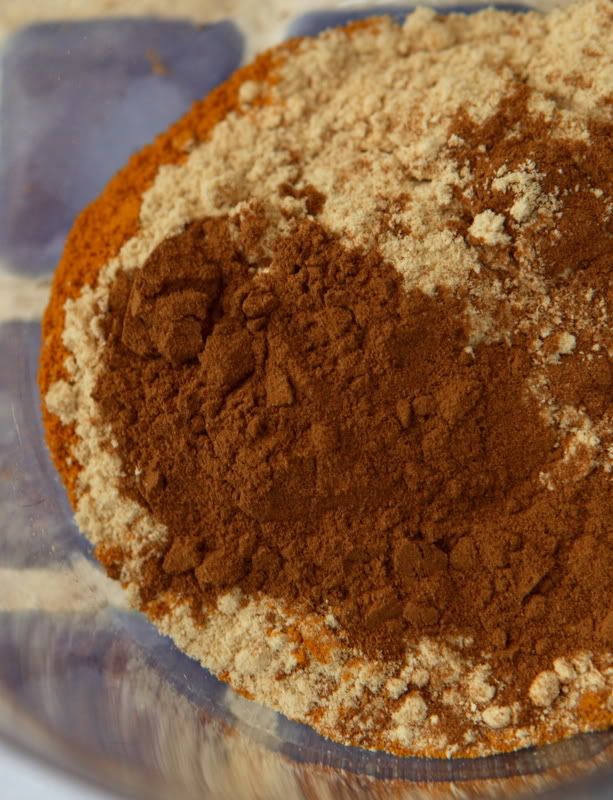 Chop the
dried plums
; set them aside.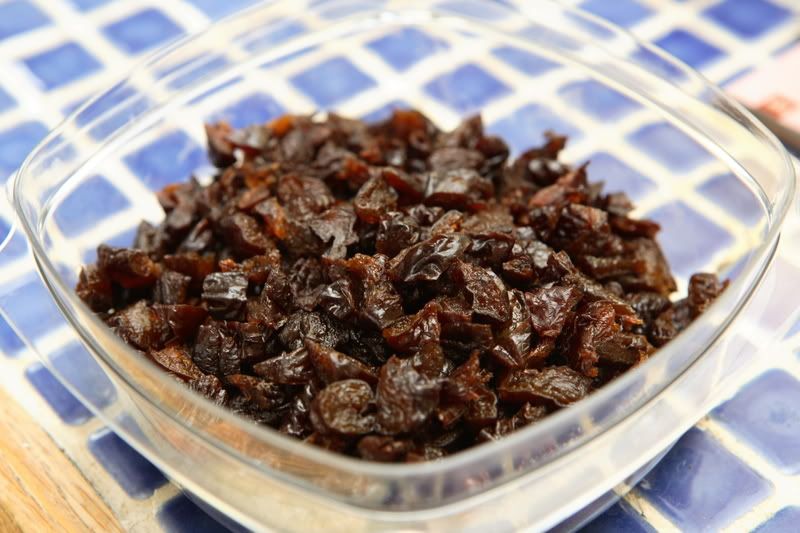 You'll need a large, 5-quart heavy pot with a lid. Chop the
onion
; place it in the pot with a few tablespoons of
olive oil
. Cook it over medium heat, uncovered, stirring often, until nicely browned. Remove it from the pot and set it aside.
In the same empty pot, add several chicken pieces, along with some additional olive oil and cook, uncovered, over medium-high heat, turning once, until browned. Transfer browned chicken to a plate; repeat with the remaining uncooked chicken, adding additional oil as necessary.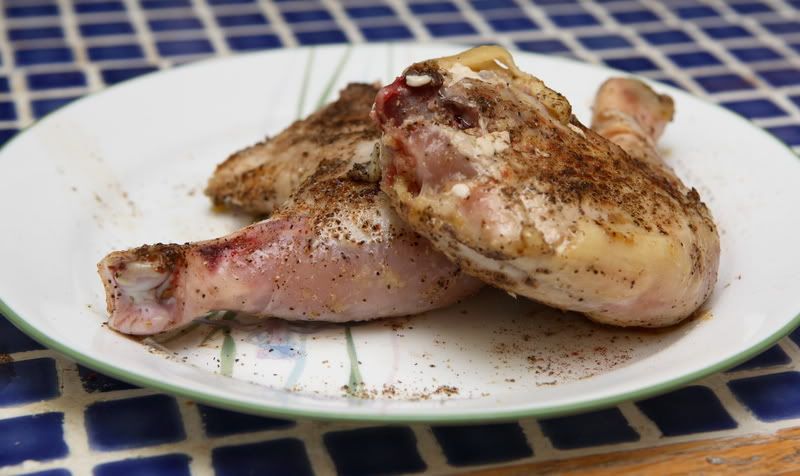 Once all of the chicken pieces are browned, remove them from the pan and return the browned onion mixture to the pot – the heat should still be at medium-high. Add the turmeric, ginger, and cinnamon, and give everything a stir. Add the
chicken stock
, stirring to scrape up any browned bits on the bottom of the pot. Add the chopped plums, then return the browned chicken to the pot.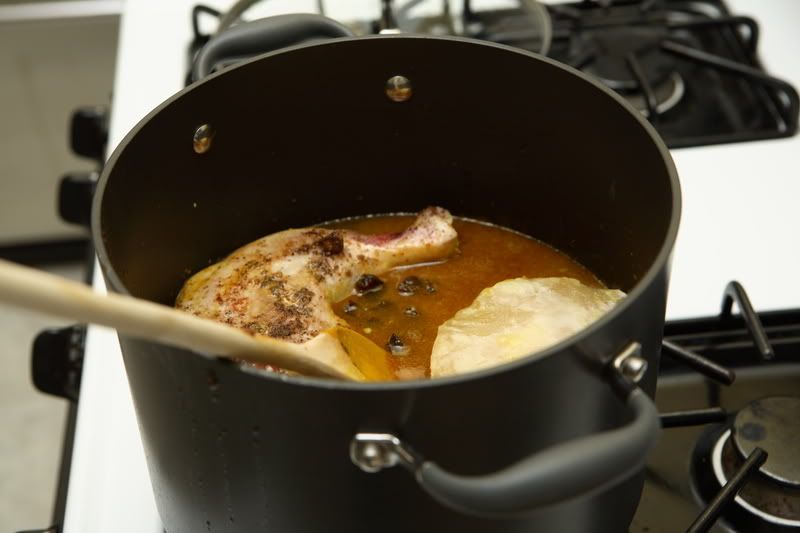 What's that large yellow item in the pot next to the chicken? It's a block of frozen homemade chicken stock!
Bring the pot to a boil, then reduce the heat to a simmer. Cover the pot, leaving the lid ajar slightly so steam can escape. The chicken needs to be simmering for 45 minutes total, but give it a stir every 15 minutes. It's unlikely the pan will go dry, but if it does, add additional stock as necessary.
The chicken will be very tender. It will have a deep golden color due to the spices. Although this isn't a curry dish, it looks similar to one (the spice turmeric provides the golden color of curry; you'll remember that turmeric is also used in this recipe). Truthfully, this is one dish that tastes better than it looks! Give it a try! It is outstanding!
To serve, plate the chicken and pour a small amount of the sauce from the pot on top of it. I always serve additional sauce so my guests can add more as they desire.