This year we celebrated Valentine's Day early. Our
favorite restaurant
books up months in advance for the holiday, and we could only get a reservation for the Friday prior to what is definitely one of the busiest weekends of their year. That was okay – we prefer to go on a day where they are not so busy – a day when we don't feel guilty for relaxing over a bottle of wine because there is no massive line of patrons piling up towards the door. We enjoyed our slow-paced, relaxing evening so much that we agreed to try to celebrate Valentine's Day a week early every year from now on.
It was also nice because I had the best of both worlds: I got to relax and eat out at my favorite restaurant, but also got to have fun making a nicer-than-average-but-no-overkill-required-since-we-already-had-the-real-deal dinner on the day of the actual Valentines Day holiday.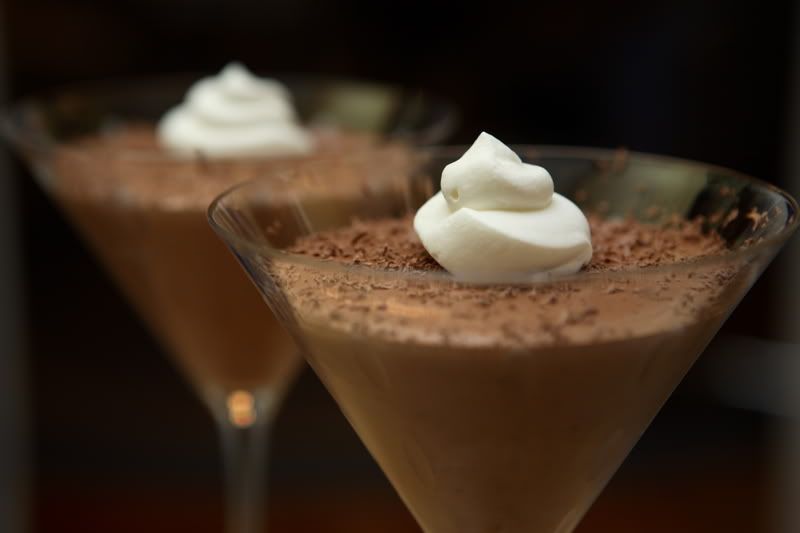 I wasn't sure what to make for dessert until I stumbled across a recipe on the
Everyday Food website
. Although I love mousse, I rarely make it for some reason, so I thought it would be a nice change from what I might normally make. The recipe below reflects my changes from the original recipe.
The original recipe says it serves four. I disagree: Yes, it could be divided into four servings, but they would be so small that they would be difficult to attractively plate and present if you were planning on serving the dessert to guests. It is, however, perfect to make into two somewhat larger servings and share one of these larger servings with your significant other, saving the second portion for later. (But, it generally wouldn't be appropriate to serve a single dessert to two random guests and demand that they share it between themselves.)
Bittersweet Chocolate Mousse
Yield: 2 large servings
2 ounces bittersweet chocolate, plus a small additional amount to be used as garnish
4 large egg yolks
¼ cup sugar
A pinch of salt
2 Tbsp unsweetened cocoa powder
1 cup heavy whipping cream (3/4 cup will be used in the recipe; ¼ cup will be used as a garnish)
Finely chop the
bittersweet chocolate
– for best results, pieces should be pea-sized or smaller. (I used Scharffen Berger 70% Cacao Bittersweet chocolate.) Set chopped chocolate aside.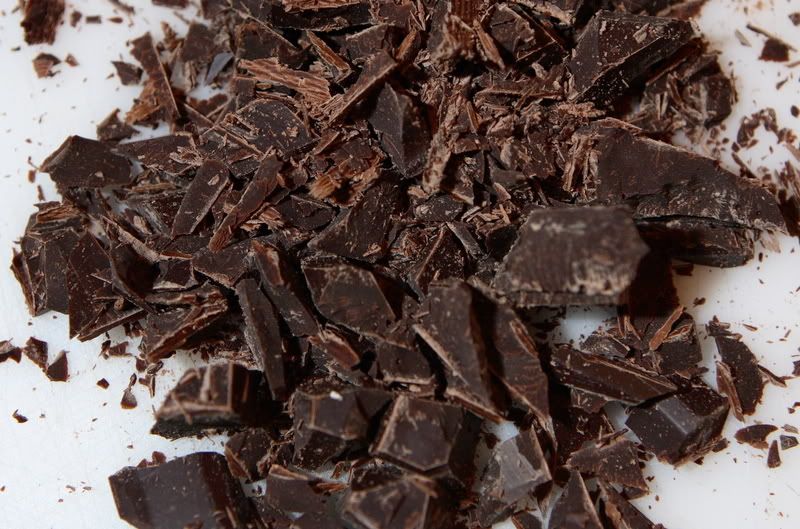 In the top of a double boiler or in a heat-safe mixing bowl set above (but not in) gently-simmering water, whisk the
egg yolks
,
sugar
, and
salt
until the sugar has dissolved. The mixture will thicken ever so slightly.
Remove the bowl from the heat and whisk in the
chopped chocolate
and the
cocoa powder
. (To keep the flavors similar, I used the same brand of cocoa, Scharffen Berger Natural Unsweetened Cocoa Powder.) The mixture will be thick. Allow this mixture to cool to room temperature. As it cools it will become even more thick and sticky – give it a stir every few minutes to keep it loose.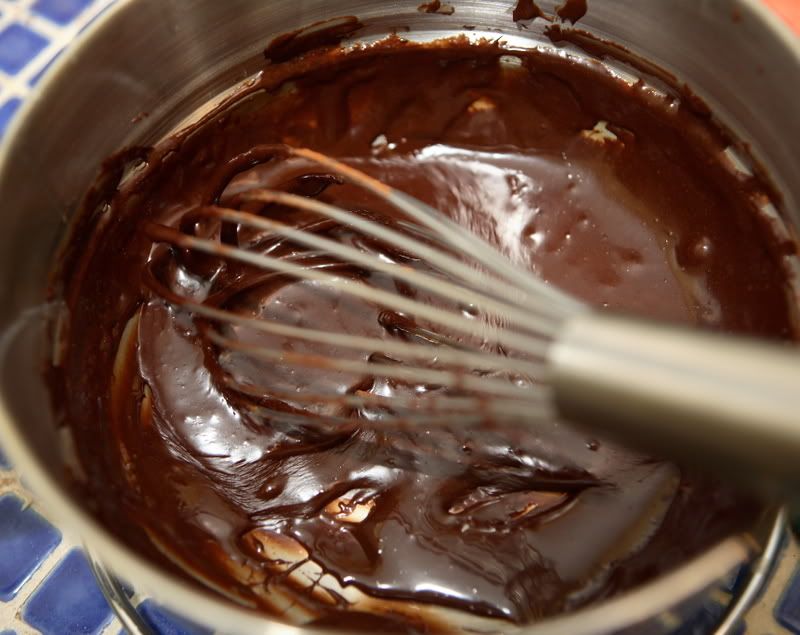 Once the chocolate mixture has cooled, in a separate bowl, beat only
¾ cup of the heavy whipping cream
until soft peaks form (reserve the last ¼ cup of unwhipped cream for the garnish, which won't be used until just before the dessert is served). Whisk half of the whipped cream into the chocolate mixture, then use a rubber spatula or flat spoon to fold in the remaining half of the whipped cream.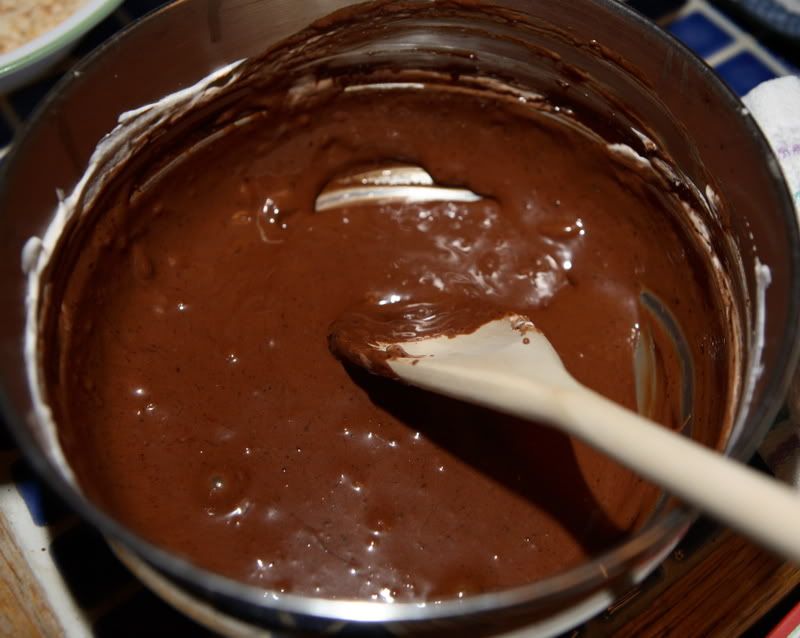 Divide the mixture between your serving dishes. Refrigerate for at least two hours and up to one day.
Immediately before serving, grate a small amount of
bittersweet chocolate
over the mousse as a garnish.
In a small bowl, whip the
remaining ¼ cup of whipping cream
until stiff peaks form. Place the whipped cream into a small plastic baggie, pushing it into one corner of the bag. Snip a small triangle off of the corner of the bag. Use the baggie as a piping bag to decorate the top of the dessert.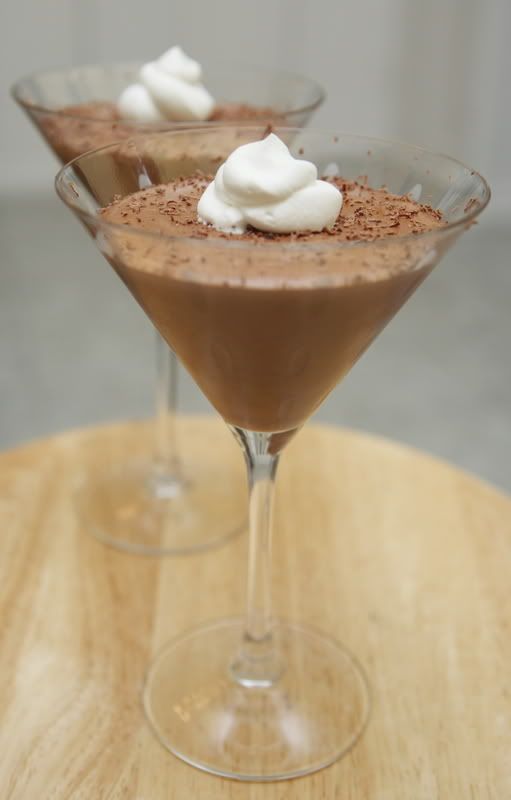 I love using my martini glasses as dessert cups!
The dessert was delicious, but I prefer my chocolate desserts slightly less sweet. It would be great to serve to someone who enjoys desserts but isn't necessarily a chocoholic. Will I make it again? Probably, but next time I plan to try to modify the recipe to yield more mousse with less sugar. I'll let you know how it works out...